Home
Rear E30 Coilovers
Details

Hits: 1660
So now we get on to the "sexy" topic of suspesnsion. Some readers might be quite appalled to see I'm spending as much time on this subject as I am on wiring, bonnet pins and other tedious stuff. Fact is I find everything on this car is actualy quite fun to work with*
*ok some are not so fun...
Over the weekend I got stuck in to my coilovers starting with the backs (sorry rears - still in rugby mode!). I bought used Gaz golds with top mounts from the E30 zone and got plenty of after sales advice - cheers Brian. The biggest time consumer was working out where the sleeves went, either top mount end or bottom bolt end. It turned out both and the chap found the bottom sleeves and replacement bolts posted them in great time.

Here's how I thought they should go-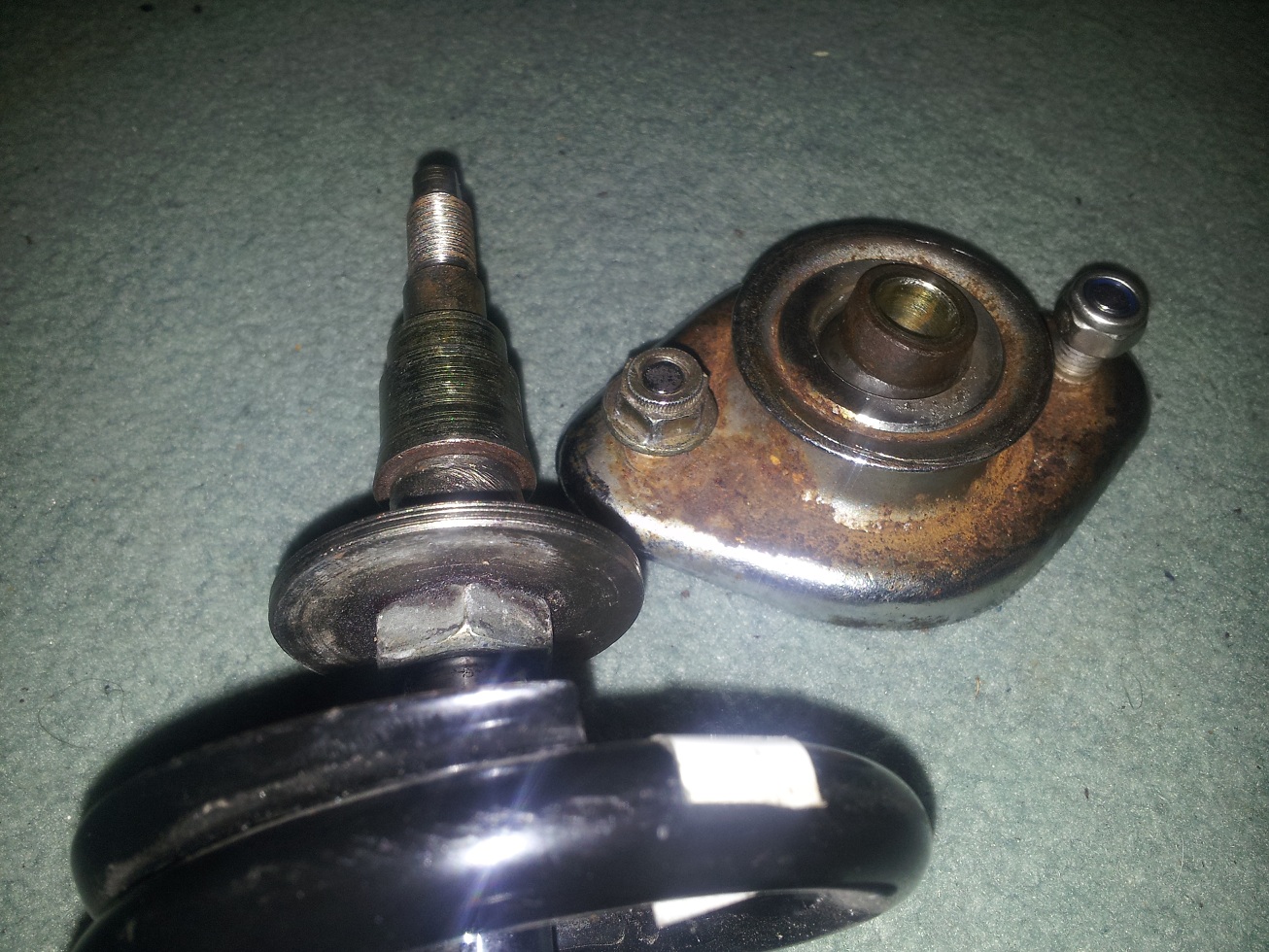 HOWEVER, its best to use the bigger sleeve spacer at the top.

This is the top mount and test fit without sleeves - still working out what goes where at this point!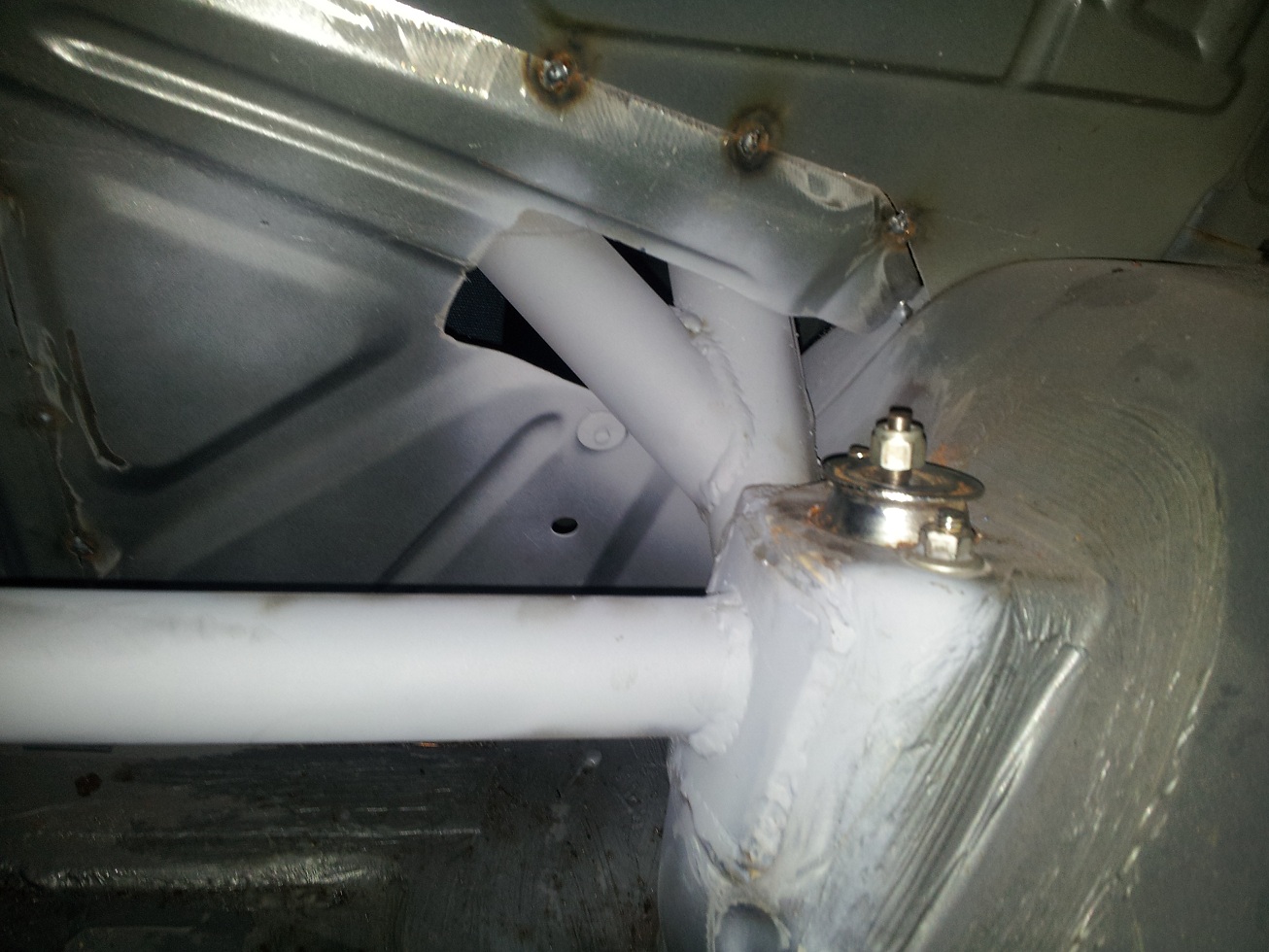 And then...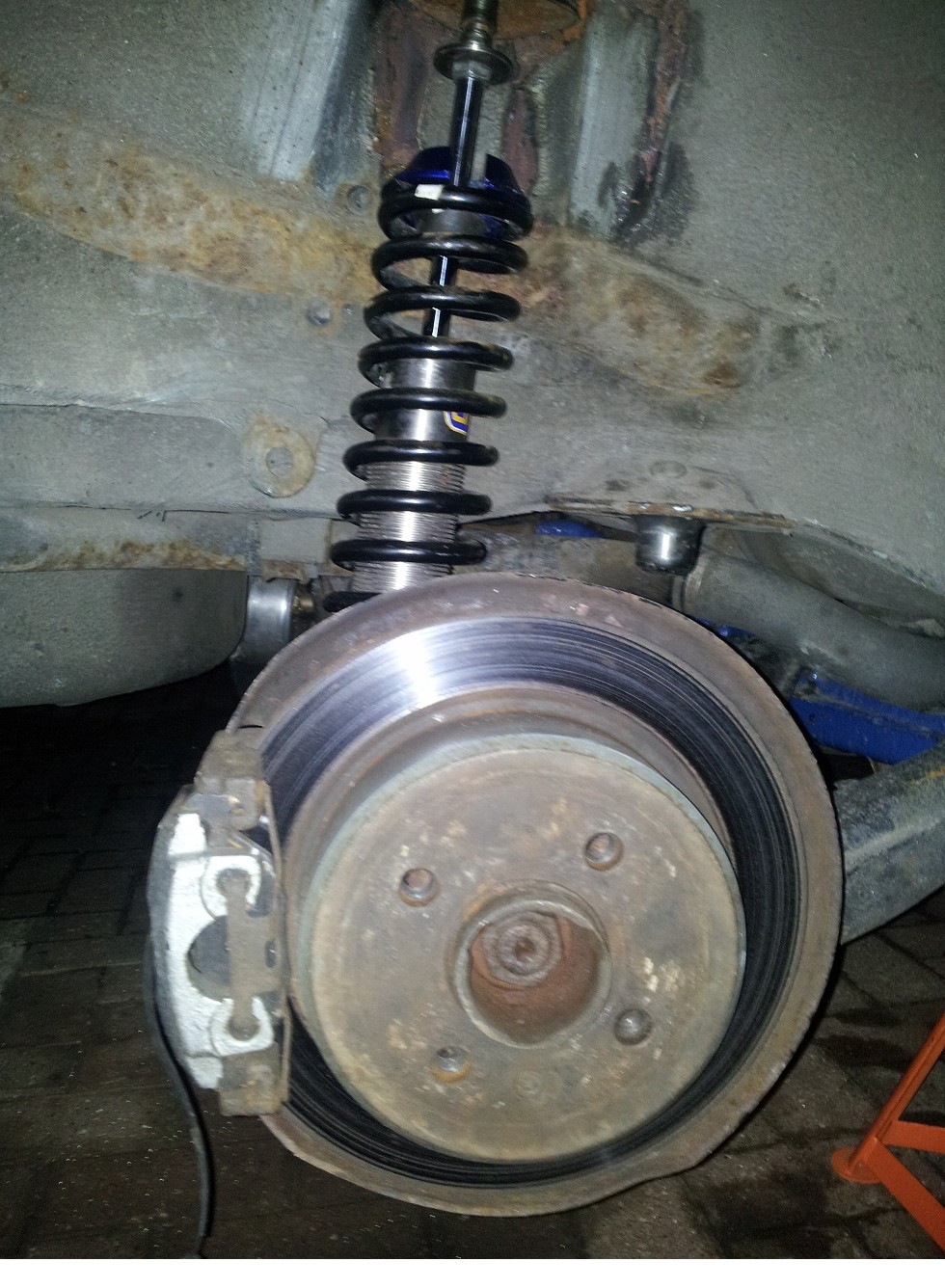 There's a lot of talk around the rears needing helper springs or something, so the damper when fully extended goes back to it's original position. I found it lowers just fine. The spring does rub slightly this side so I will be getting some offset top mounts to clear the spring away from the body, and selling the old ones.

The rears in total I managed to finish either side of 6 hours of 6 nations rugby in a day, even with a bit of stomach "issues". So the rears are dead simple. The fronts however... not so.

My lesson learnt for that day however was to set the ride height correctly on the coilovers before lowering the car off the stands! I thought I'd gone I thought for plenty of height, but I'd actually gone for not a lot of height misjudging where the collars should have been... So when I lowered the car, I had a bit of a shock as the jack was stuck and the wheels were on their arches. So I sorted that and went for practically the maximum height (properly) I could go which is still quite low for me!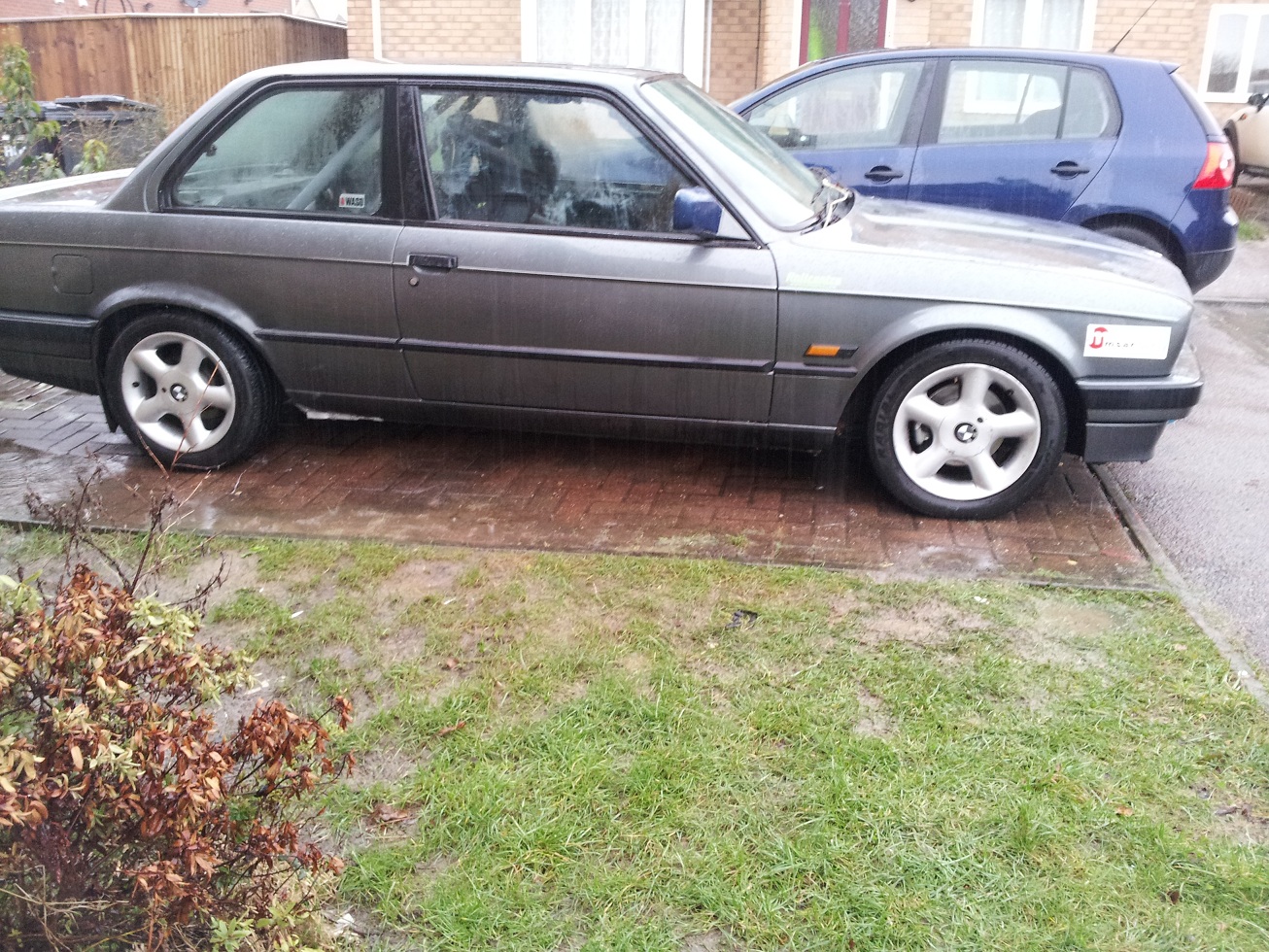 This actually shows after me completing the front driver's side as well as both rears. From this angle at least it looks done(!) And yes of course I worked through the rain, to a point.

I went for a tenatitive test drive, after going back and forth on the road, to ensure all was well. At this point just the rears have been changed. When I got up to speed it was massively obvious how much more communicative the rear is. I went over some speed bumps to make sure everything was bolted on properly, played with the throttle and brakes and all was well. Interestingly on a wet road, wow the rear wheels are easier to light up now - it's instant o-demand wheelspin! No wonder you hear about inboard springs a lot for these track cars.
Powerflex wishbone bushes
Details

Hits: 1205
The next job was powerflex wishbone bushes. I bought eccentric ones which the M3 had, which push the wishbone in some sort of direction that gives sharper handling. The poweflex bushes however are much thicker push the entire wishbone forward, increasing castor.

The old lolipops came out ok, I just jigsawed (ahem) carefuly through the rubber, pulled off the lolipop and sawed through the metal ring left on the wishbone. This eventually came off and job was nearly done - so I thought.

The bushes go one easily enough, they come with indentations to go over the wishbone as they are much thicker like so: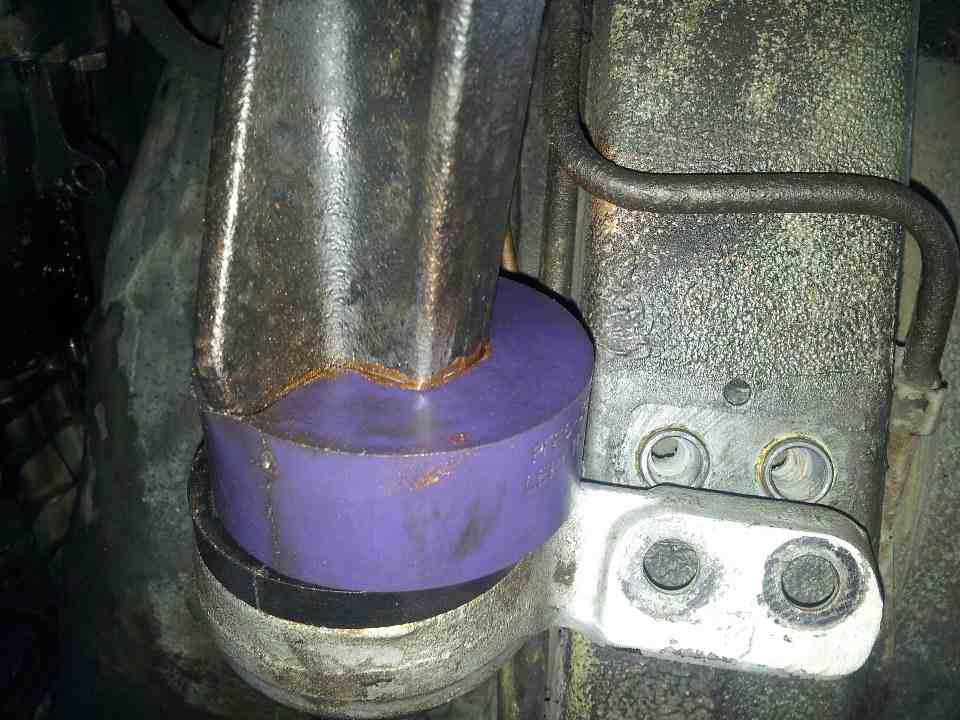 As you can see though, now the bracket won't line up. There's a bit of advice on this, from soaking the bushes in boiling water, smacking them with a hammer and wood, taking out the ball joint first to give you more wiggle room. I did see one top tip (again on the e30zone!) to use a special device called a 'tweaky bar'. This specialist device (an old screw driver, threaded bar etc), allows you to pry the bracket into place against the holes. Do the inside one first, then push the outside one back again and off you go. Took me most of a day getting nowhere before finding this tip!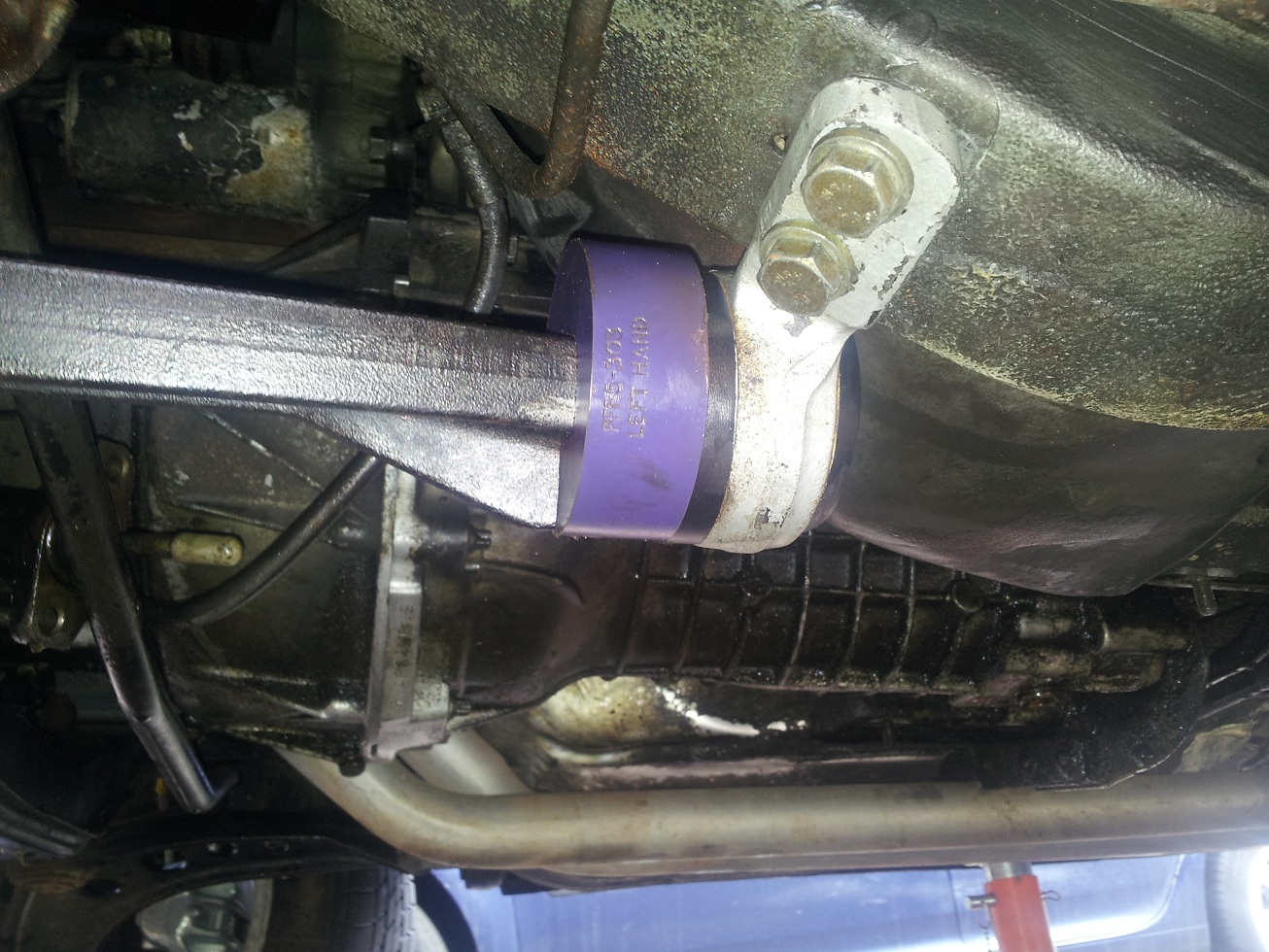 It's obvious with the wheels in the air how much more castor you have, not massively back on the ground.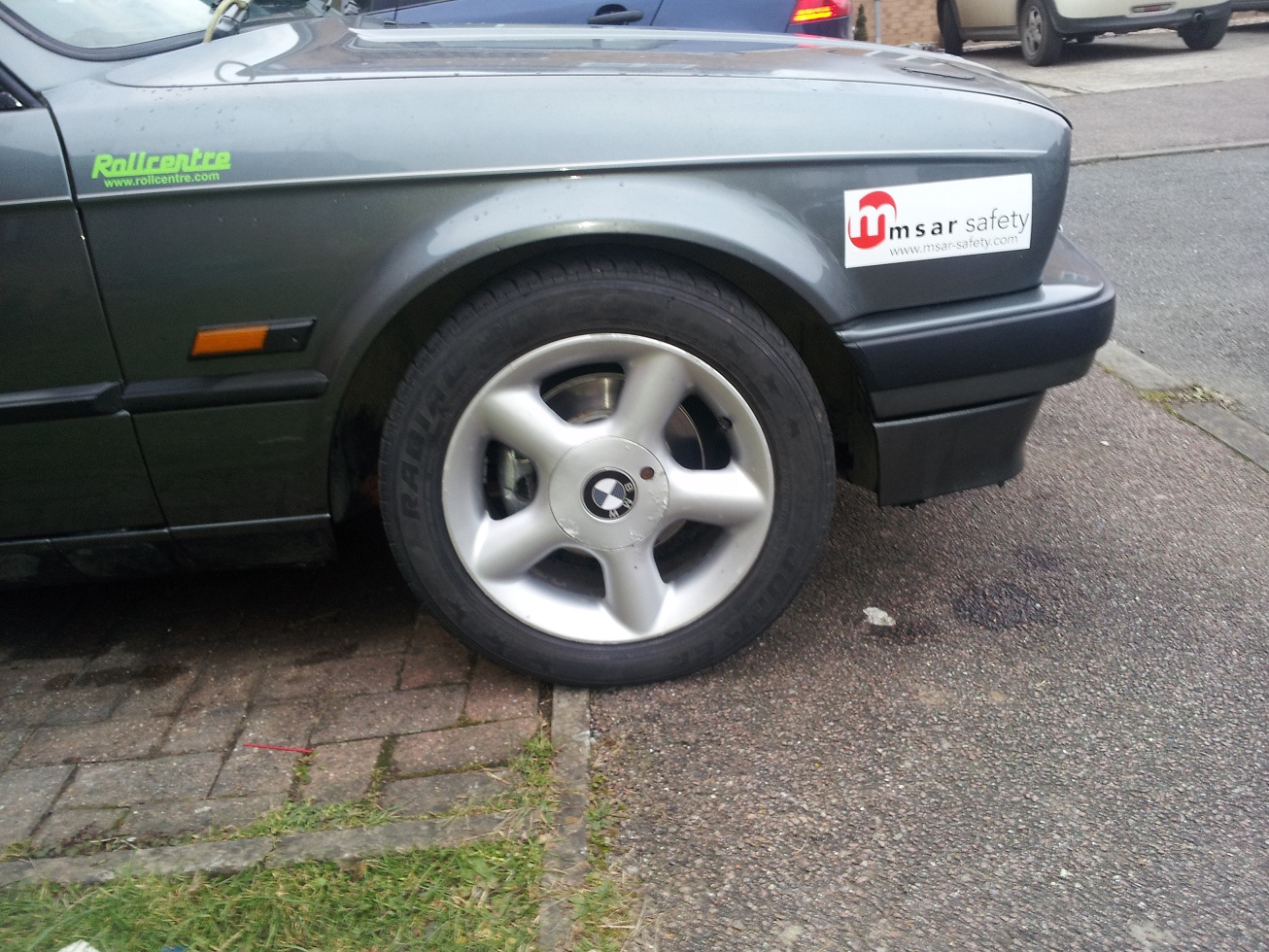 It's like the suspension strut is being used a bit more horizontally, which helps with high speed apparently. No complaints from me, as I went for my first road shakedown, a proper blast on a quiet road for the first time since my titting about with bushes, rear beams etc.  Wow, it's far better! No rear wheel trolley steering, I just need some decent tyres to really get the full benefit,  but it's a fantastic improvement.
E30 Clutch slave change
Details

Hits: 1188
Right got stuck into the clutch this weekend. Decided to do a small job halfway through, which turned out to waste most of my day - more on that later.

Basically, found the car seemed very eager to move forward. By the third gear change I relised something was amiss when I struggled to change gear. The next change into first at a roundabout to go, didn't happen at all. So stuck my hazards on, and had an emergency crisis meeting with myself to determine what to do next.  Woman beeps behind me beckoning me to go, so I stick my hand put the window and wave her past. Still fiddling trying to get in gear she beeps again waving frantically. I'm fairly certain that's the universal signal for "go passed me I've broken down", obviously someone needs to tell the dozy mare... Anyway, had a brainwave, switched off the engine then put her in first and started up. Got me home. The pedal was completely limp, so I was thinking surely there was something between the clutch pedal and clutch instead of fluid, like air!

A diagnosis back home and some advice from the e30zone, showed the issue was likely to either be the slave cylinder or master. The master is on the clutch pedal, and showed no signs of leaking. In fact, digging through the car's history (of which there are a hell of a lot of Sewell of Bishop Stortford reciepts!), showed it being replaced 30 thousand miles earlier. So looked at the slave which is attached to the gearbox, and found a fair bit of fluid near it. Put a bit more fluid in the reservoir and pushed the clutch pedal (completely lifeless) a few times, and sure enough more fluid dripping from the gearbox. So a quick trip to eurocarparts later and a new cylinder ready to go on. It has a stubborn brake union nut so plenty of heat, WD40 and a11mm flared spanner coupled with a hammer to shock it a bit, and off it came. It's easier to take the cylinder and hose off together than trying to get the hose off the cylinder in your hand.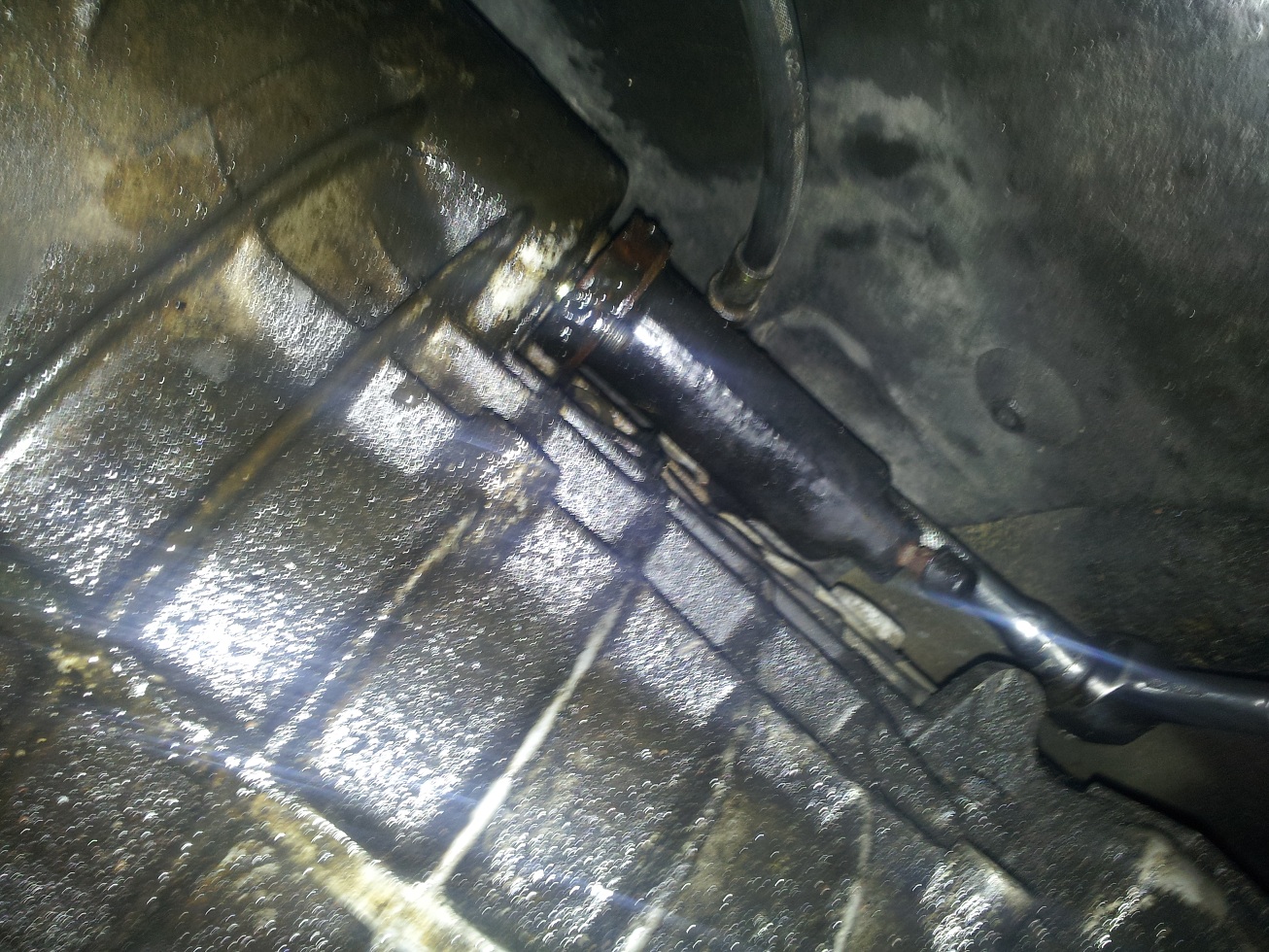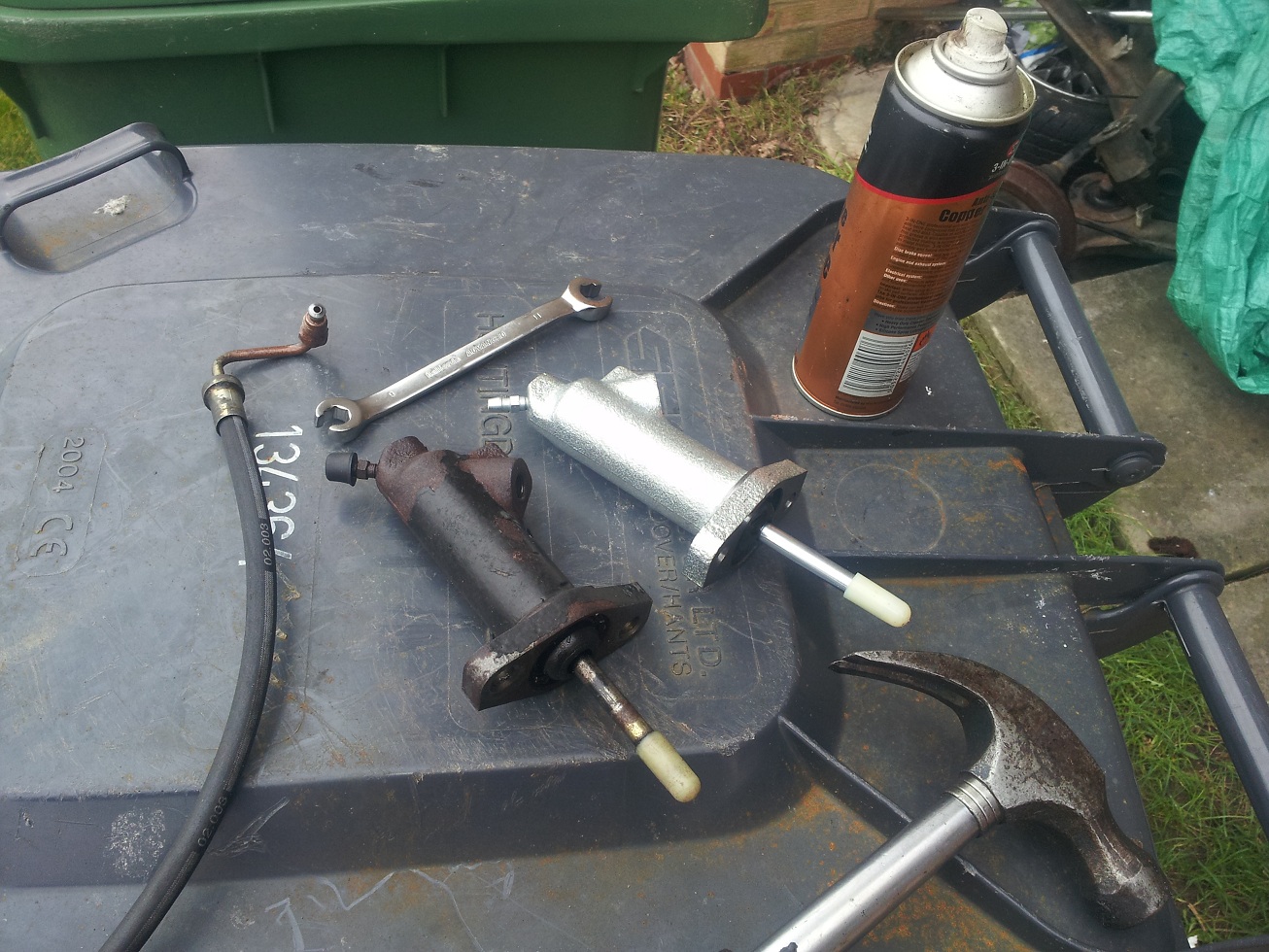 The above picture tells you what you need to know: here's the old vs new cylinder, use a flare spanner on the union nut, shock the spanner with a hammer, and spray some copper grease on the new nut to help in the future. Bled the system, eventually. When the fluid is bubble less, tightened up the bleed valve, it was a relief to feel the pedal go hard again! A quick test revealed a working clutch once more, and a nice easy gear change.

Then there was the "little" job I thought I'd tackle. I bought some powerflex wishbone bushes a while back and it was time to fit them. What a drama....
Back on the road
Details

Hits: 1184
So after a weekend of breaking the prerequisite amount of tools, slicing open my thumb, and generally spending one more day getting cold, I've got the car back to MOT status. It's been off the road for a year and a half now, so I was counting down the days to get it back on the road.
There was a decent checklist to get through, first off was a driver's side door card. You can't really have interior that could slice you open if you see the passenger door. I bought some sheet plastic from demon tweaks and got cutting. You can also see the check panel simply glued in place with the glue gun. I thought wow that's pretty solid, so after failing twice to get the OMP horn to work from the wheel, I just glued that in place too. Some house keeping then, so handbrake light on the dash was a loose bulb, some messy wires near the pedals and where the glovebox was were cable tied, and the ECU was bolted down. I gave the interior a clean and checked all the lights.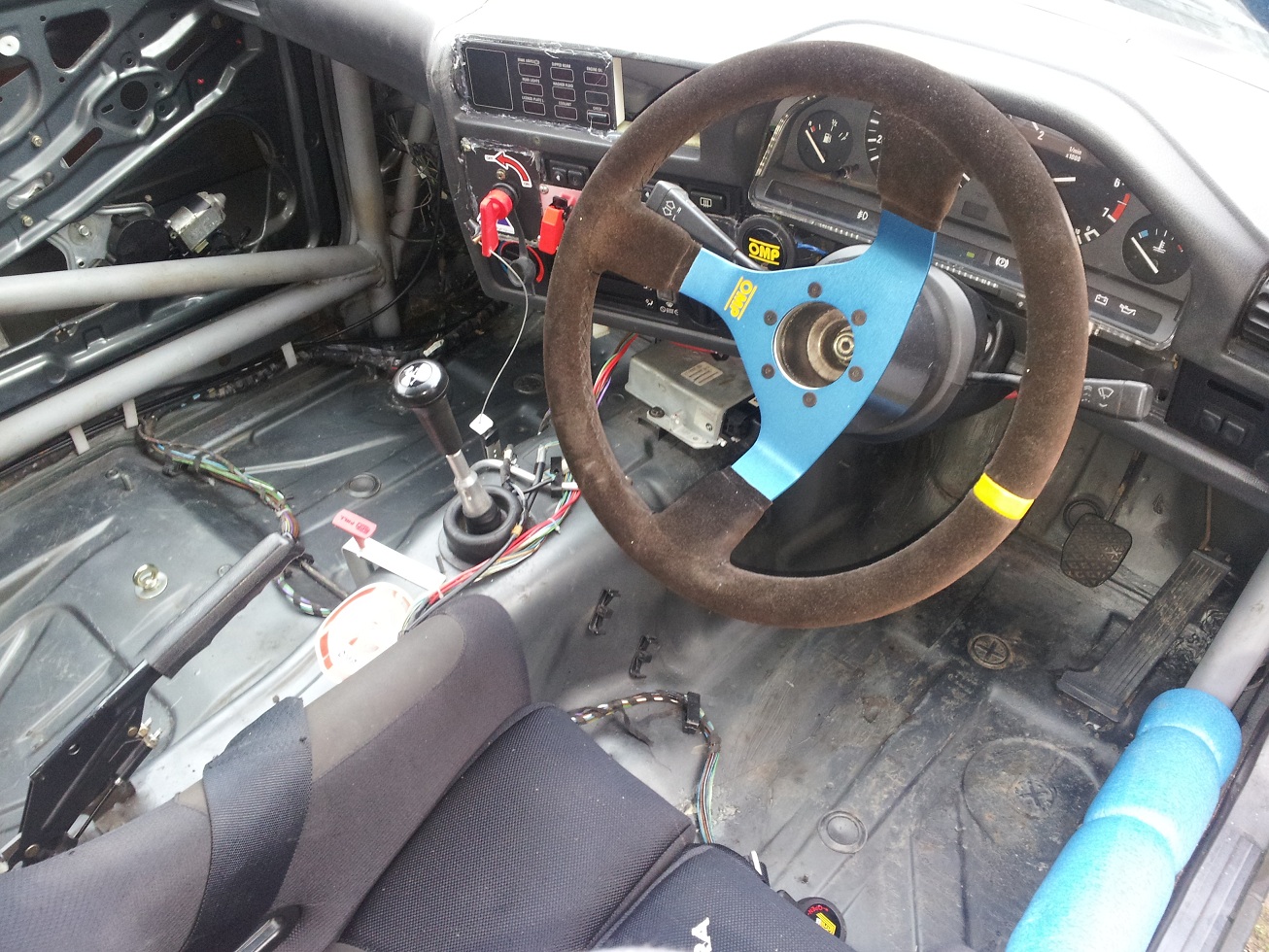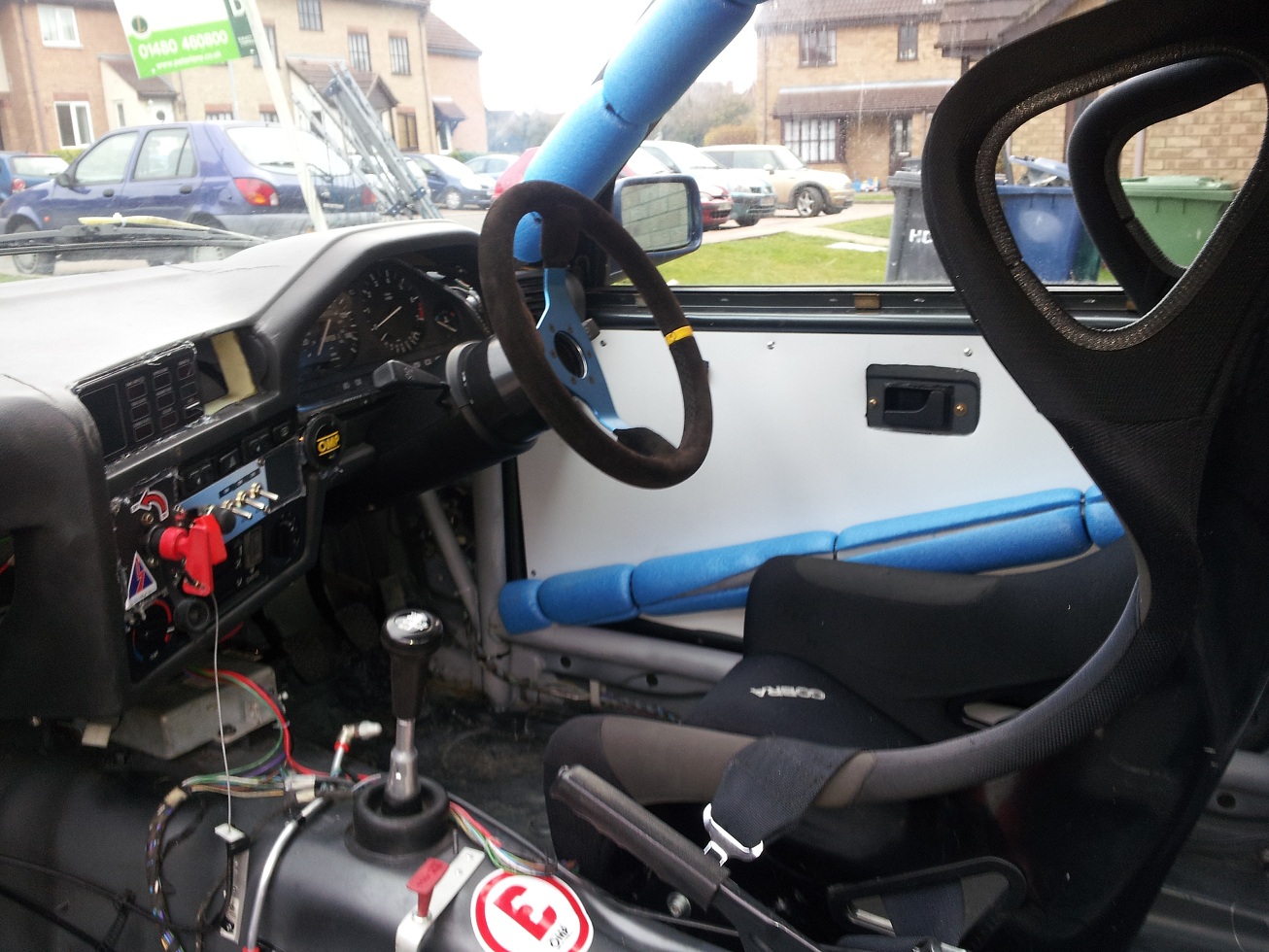 I also bled the remaining brake, eventually with a bit of pipe and one way valve. Ingenious kit well recommended, put my (now broken!) Gucci pump to shame. So after all that, the time came to drive it to the garage for it's test. Just a silly little side story, when I got to the garage I didn't know whether it had passed or not, only that it was ready. Got there, and whilst the lady went to find the keys, I read an utter horror show of a refusal sheet. Assuming it was mine of course. "Offside rusted this" and "something in poor condition that" and the sheet carried on. I was pretty relieved when I read the top of the sheet which read "Transit Van", "Ford" !!!
So the mechanic came to chat about the car, told me about a battery tray hole (which I've hammerited up anyway), and told me after his refresher tester course, technically my race seat was illegal, according to some garbage about it not being the original BMW seat. Thankfully, that bit was overlooked. Therefore, all WRC rally drivers break the law by driving from stage to stage. I think this was before VOSA came back after having taken a sensible pill, and released "clarification". Other than that, my car had a clean bill of health!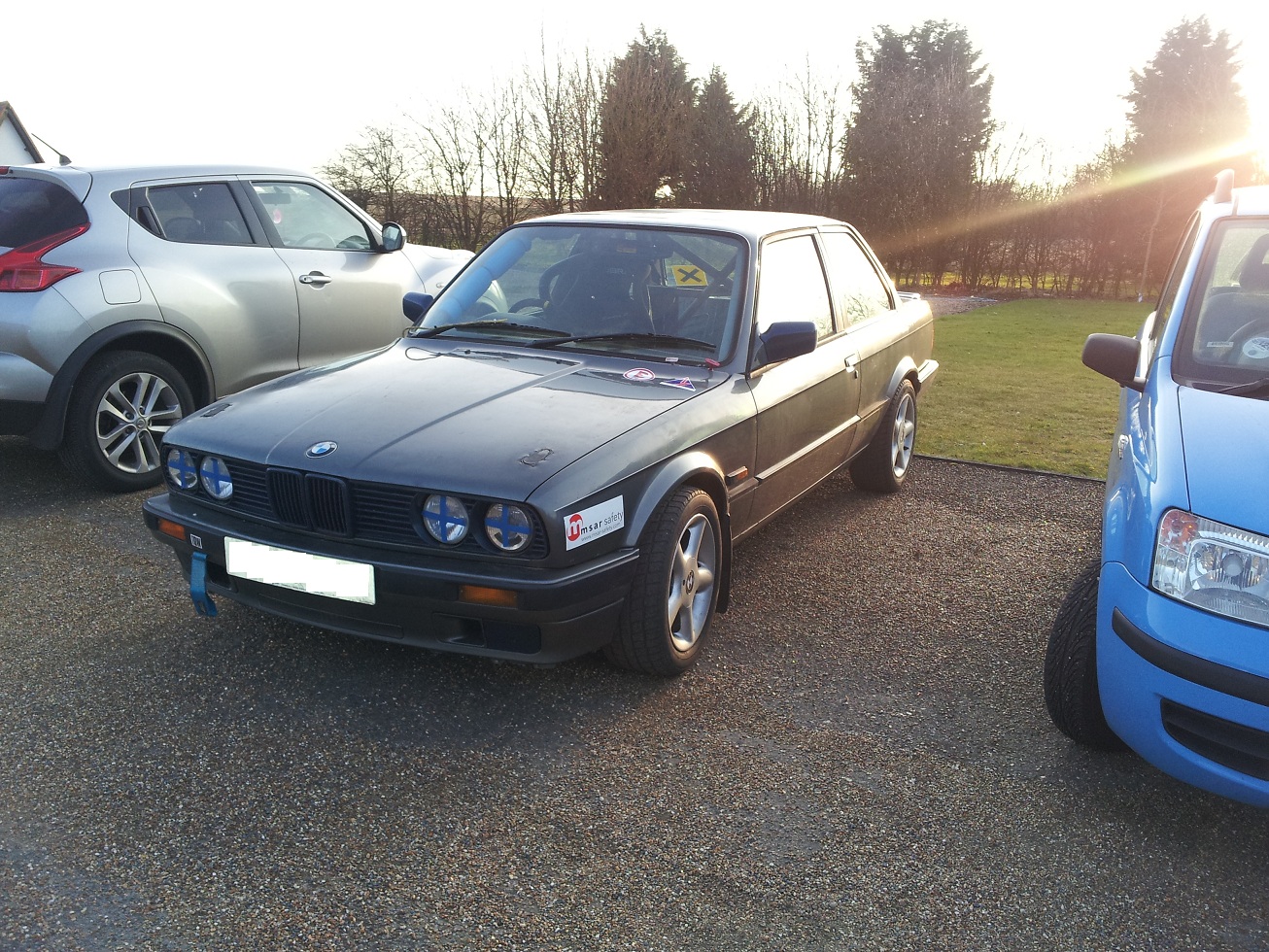 So to drive, obviously I very gingerly drove to the garage, stopped after half a mile and had a look round to ensure everything was still attached. One of the front wheels has a wobble which feels very much like a wheel/tyre out of balance. But everything feels good, the back is much tighter with the rear beam bushes doing their job. Haven't opened the taps properly yet, but leaving the revs rise a few times - it's good to hear the straight 6 back at work again.