Home
Painting begins
Details

Hits: 269
Had one of those impetuous moments (as usual) so last night I went to Halfords to buy some more primer and tools to start on the bonnet. Sadly they don't mix colours any more in store, but just as well as it's given me more time to prime the bonnet some more and smooth it down. Parts of it feel like a baby's bum!
I also worked out that my angle grinder is extremely versatile. Considering I only bought this to cut free a rotten exhaust back box from an S-Max it's become a very useful tool.
I'll get some hot pink spray this week and lacquer so I can at least see it start to take shape. May take the wings off and do those too. The bonnet has to come into the kitchen after spraying as it's nice and warm. That said, while the kids are away / in bed I may get newspaper down and spray it there for a nicer finish.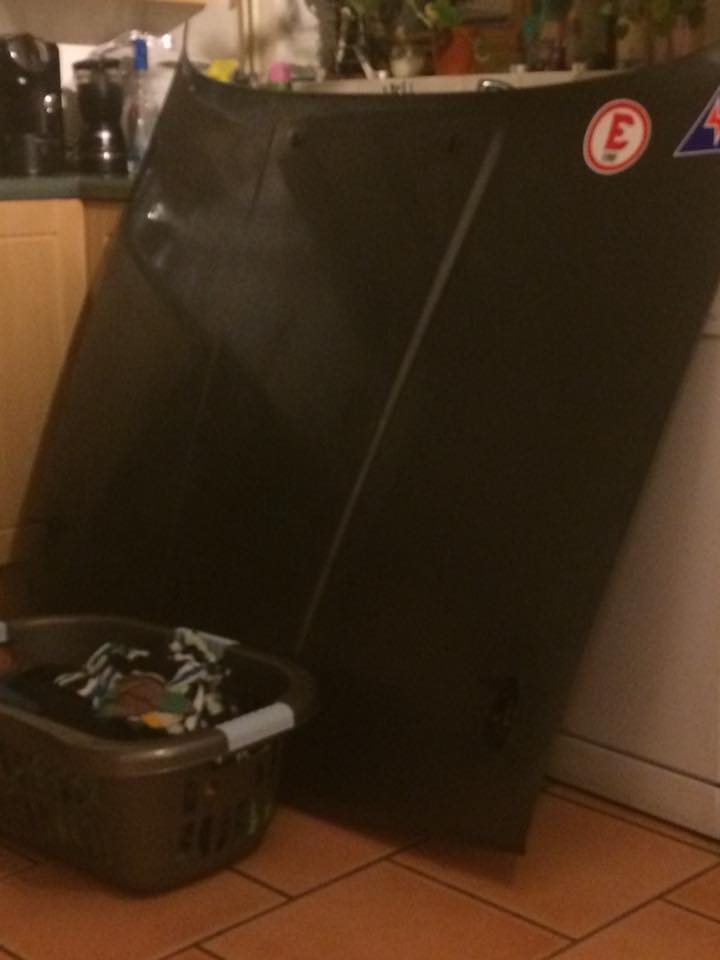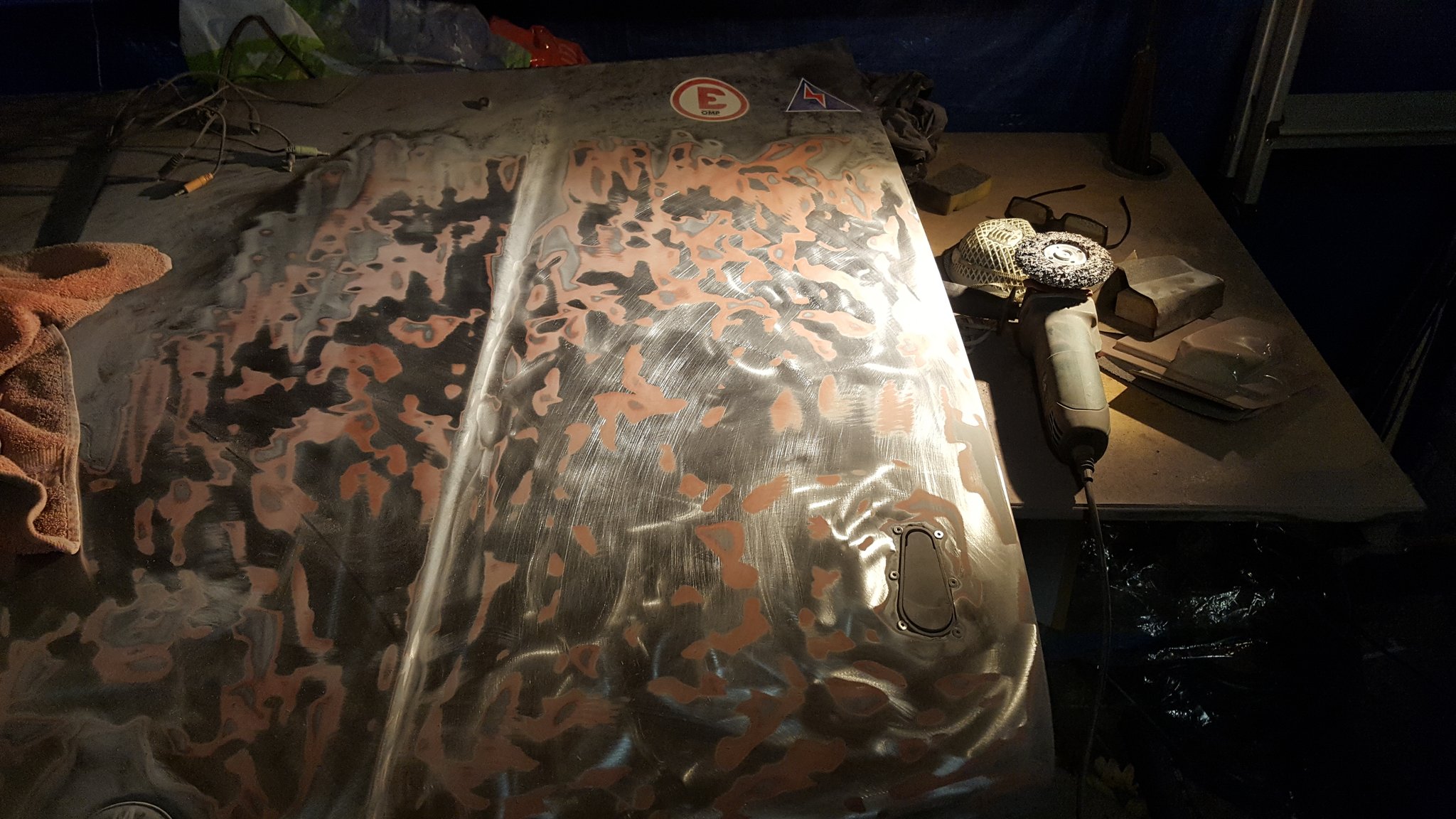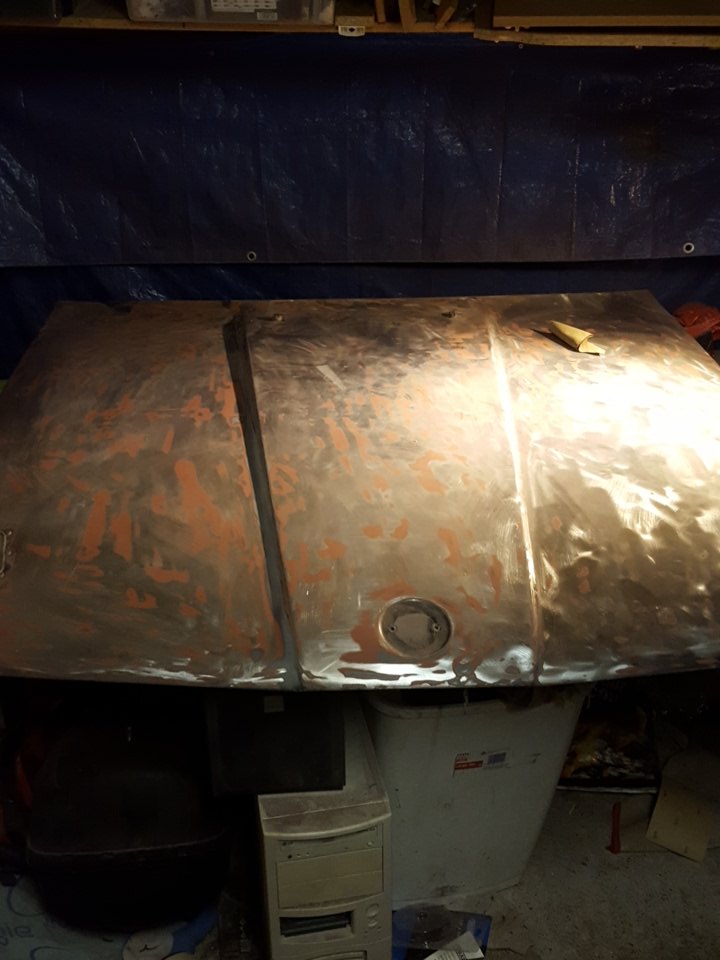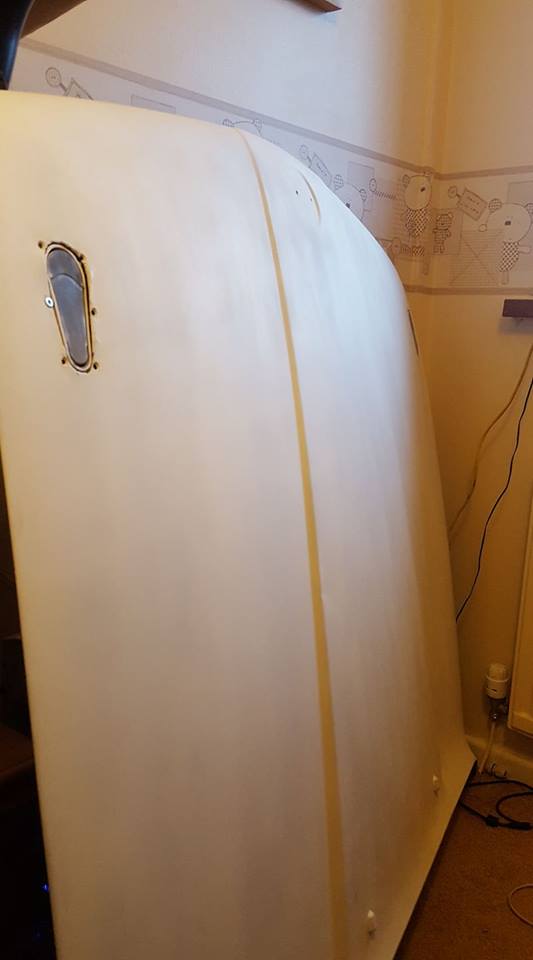 New livery
Details

Hits: 324
I carried out a couple of polls on Twitter and Facebook for a livery next year, and both resulted in dead heats. Ok a bit anticlimatic, now what? Simple, combine the two! Also, I manage to capture (borrow) from another great livery in the process. Here she is....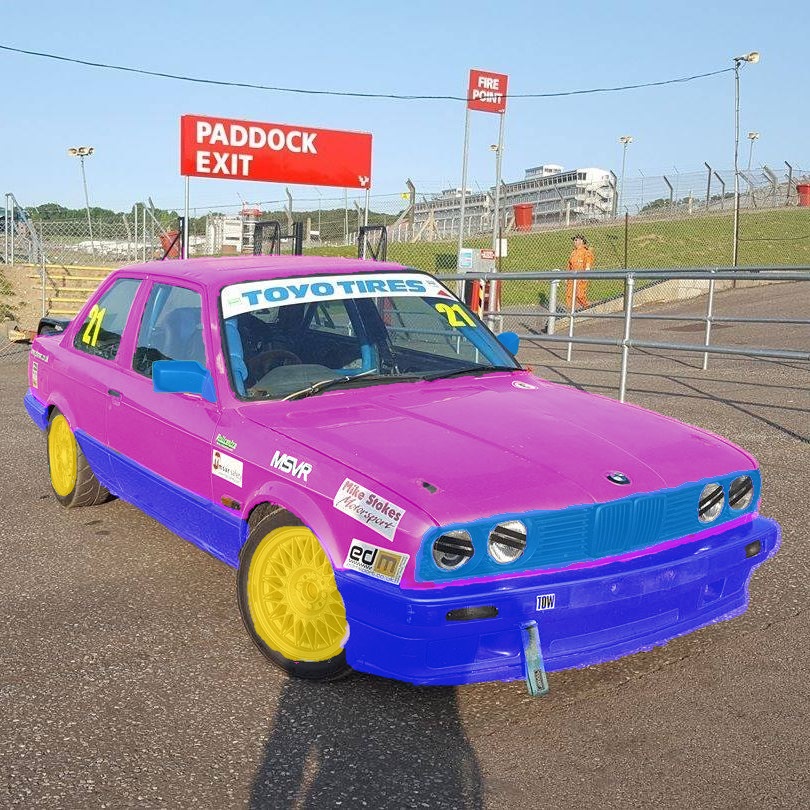 The off season sucks
Details

Hits: 299
We built up a bit of momentum at the end of the summer. Two races in 3 months! But also we acquired a trailer, new tyres, didn't finish last (not including retirements!), stayed at the circuits and generally got more comfortable. If last year's trip to Oulton was a toe in the water, (and 2014's Brands appearance was the rehearsal!), this year we were properly assimilated.
Which means now we're raring to go for next year, hoping to compete in more of the season. But, the winter break is in the way! Racing season is typically off from November to March, and it's depressing. But it does provide some planning time. So, a shopping list is emerging!
Rather than leaving the tools as neatly piles up in boxes as possible, we could really do with an awning. Plus we've got somewhere for us all including the kids to chill in the paddock, usually with electric hook up. Any tent or hotel is often a good walk or drive way. Plus it could even take over from the tent - maybe. See Rock awnings who seem to be recommended.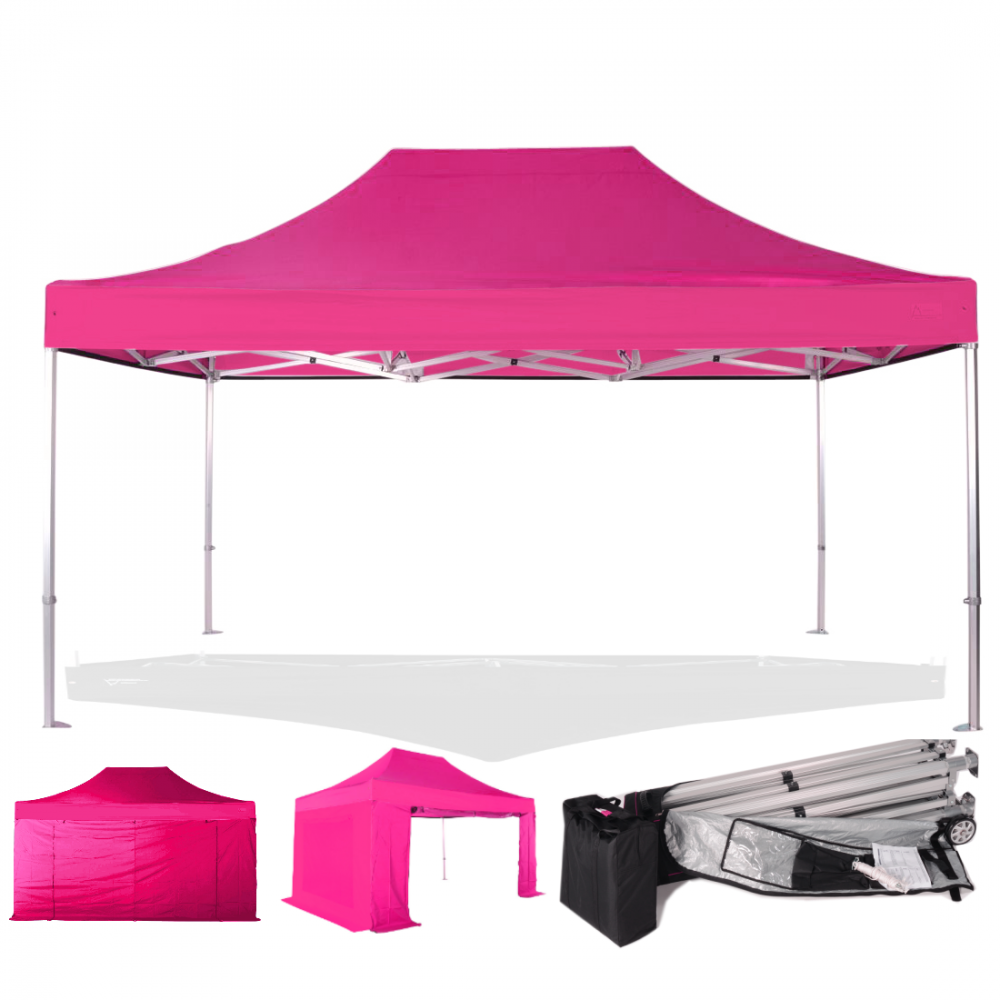 Yep, it's bright! Which leads me to the next subject... The car is pretty dull so we're talking colours. Mrs Cookracing is a good sounding board having a better appreciation of colours, but we've also given our family and friends (and random followers) a say, in a poll vote off on Twitter and Facebook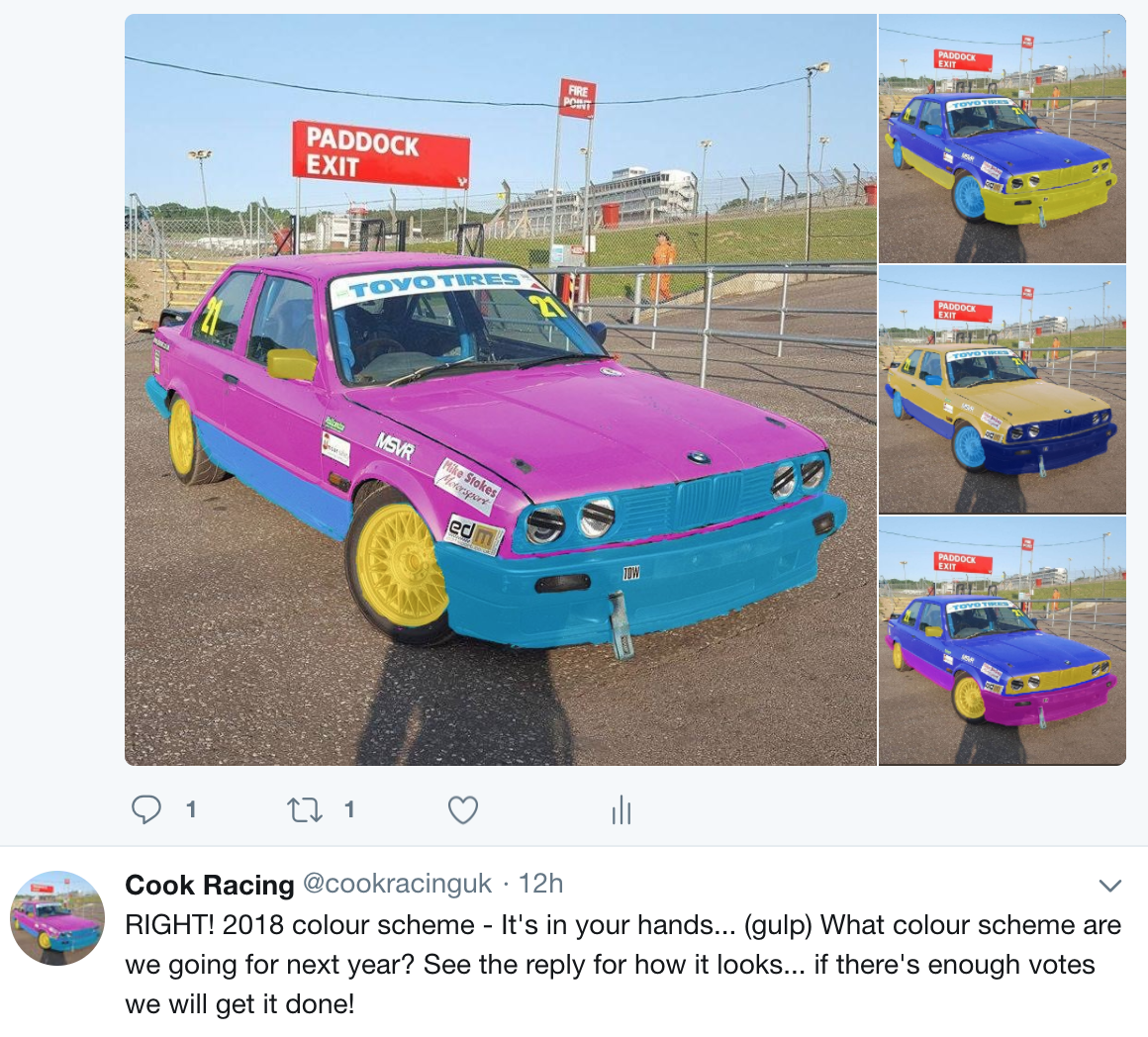 A more appealing colour palette will help no end if we try to get some local sponsorship. I'm trying to weigh up photography advice, which is now contradicting the popular vote currently. I personally like the acid Magenta, though it's pretty polarising! I've also had some advice on branding and there's more thinking to do before then.
Until next time...
Brands Hatch
Details

Hits: 560
We arrived on family holiday again before race weekend, all fully into the routine now. We take the family circus tent and our growing Halfords accessories to whichever part of the country we are racing in. This week it's been a lovely (and immaculate) campsite in Kings Lynn, with beaches and canals, new towns and cities (and softplays) to explore. It's hard work with 3 young boys but it's becoming easier with the youngest now nearly 3. It's massively worth it for the variety and the sense of adventure. I'm obviously indebted to my sympathetic partner, without her help (and enthusiasm) this wouldn't be possible. I quite like our family racing holidays! We sourced a trailer this time too, so no headaches from driving the racecar on the motorway hours on end! The S-Max took it in it's stride. We moved the "circus" to Brands on the Thursday (after an unexpected night in a hotel) for Friday morning testing. I was up for getting on track (that I knew pretty well), happy with the car, wanting to make a setup change (stiffer dampers) and get in the groove again. The new setup was superb, and I could push with much more confidence. I started in the 1.08s and ended doing a 1.02 . Not a disaster by any stretch of the imagination! With still an upset stomach (and still is), being knackered from loads of laps and out of fuel, I ended the morning a bit early, but really optimistic for qualifying. Qually was great, except for a few opposite lock moments (one put me on the opposite grass at graham Hill which was a touch concerning). I even managed an overtake! My first ever in a competitive session. For the record, Senna Osman actually took me back and set off into the distance but I was still happy! I posted 1.02s when on the pace but got a fastest lap of 1.01.7 - I was very happy with that. Qualified 27th / 29. Race 1 I am gutted to have no footage, it's by far the best race I've enjoyed. I made an awful start, not quite letting the handbrake off properly (at the back of the grid you point down hill) and lost my 2 places. But I overtook a newer driver Katarina Milutinovic at druids (glad she saw me!), and Andrew Marshal who was having engine issues, which we spoke about in the assembly area. I then got consistently in the 1.02s, and managed a 1.01.3, hunting down Mark Leabon getting closer and closer. I can't even remember where I took him, I had to watch another driver's footage coming to lap us! He got better exits from Clearways, so the drag down the straight wasn't really on. But I got a good exit from Paddock and took another victim at Druids. I'm sure him or his car wasn't working properly but I'll take it! Sadly for Danny Wilkinson (who I finally met and who I apparently inspired through this blog!) he ended up in the Clearways gravel a lap or two before the end, but for me that meant a finish of 24th out of 29 starters. Race 2 was a bizarre race / non-race. Got a decent start for a change, and was creeping up through the guys ahead, before Jennifer Olive-jones defended her line pretty robustly and I hit the brakes. She may not have made contact to be fair, but I didn't want to risk it. Sadly a few laps in there was a 3 car accident on the Cooper straight, and some badly bent cars. The safety car came out, and for lap after lap we passed the clearing wreckage. It was weird and awkward how much of an accordion effect there was for a few laps. We'd slow to a crawl passed the accident and then be pretty much at racing speed to catch back up, except obviously no overtaking allowed. I started to wonder why they hadn't red flagged the race, then they did. The restart went ok, I was again behind Mark and caught up, but probably just needed 1 more lap to get passed. I didn't, and ended up 24th again.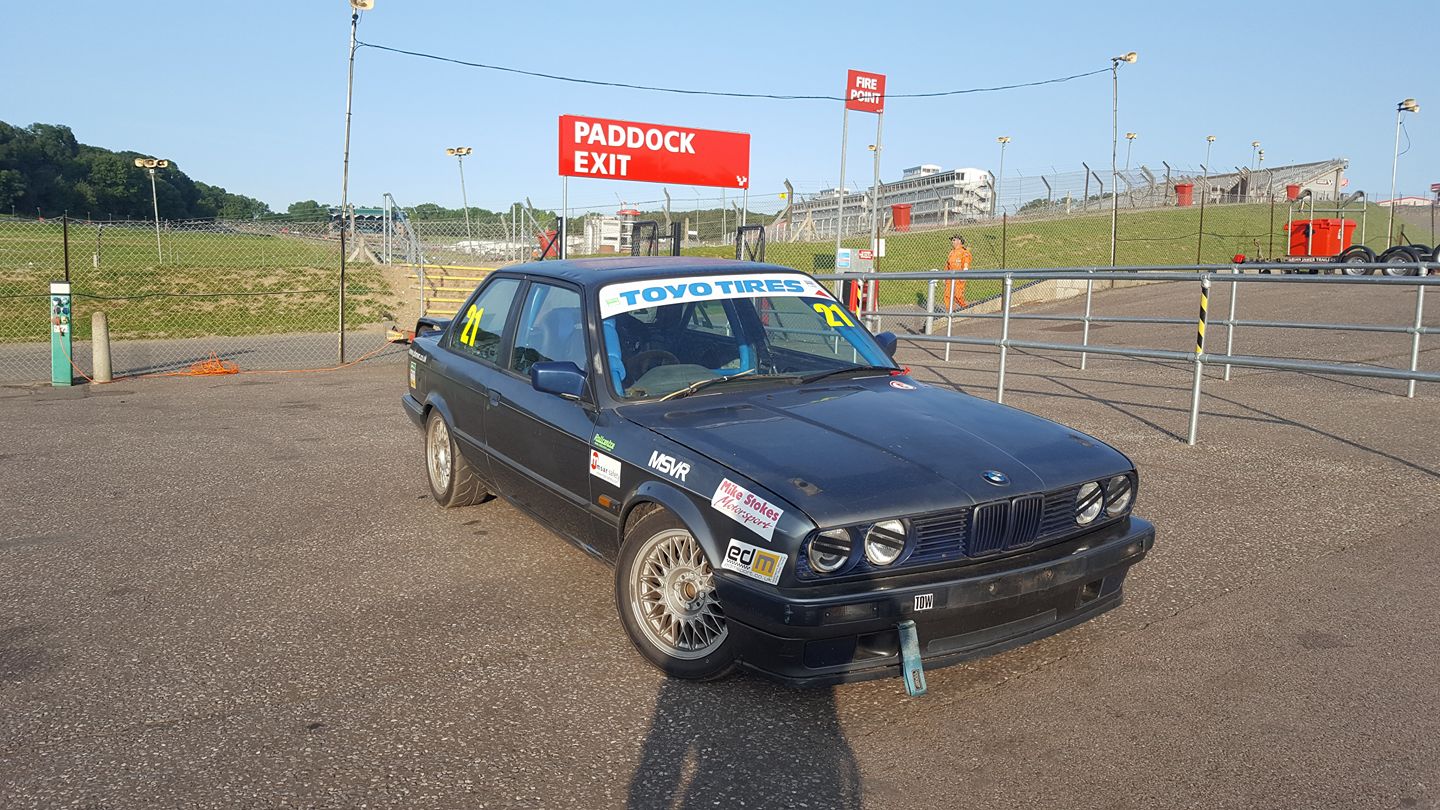 In summary, I utterly, utterly loved the weekend!! It's taken a few weekends (and 3 years!) to get my head around race weekend procedures, the format, the car, a circuit well enough etc. The advice to new drivers to 'just enjoy it' is sound I accept, but very difficult. Except for this Brands weekend, when I just looked forward to every session and couldn't wait to get stuck in. I got to push the car much harder than before and had more faith in her. I even got ever so slightly sideways at paddock - the last time I did that 3 years ago it didn't go well...! Thanks to all who have helped from the Project 8 racing club, since I came to the Snetterton test back in 2012 (?!?!). And special thanks to Charlie Brisker for a lot of help the past two weekends.
---
Lastly, last week we heard a family friend Gavin 'Luppy' Lupton had come off his bike at a race in Country Antrim and it was serious. Sadly he succumbed to his injuries earlier this week and we're devastated, especially for his wife, daughter, family and close friends. Lots of love to you all. RIP Gav. x