A weird race weekend in a few respects! Firstly, qualifying and both races were on the Sunday, meaning quite a busy day. We camped at a circuit for the first time, getting there Friday afternoon after the Williams event on the other half of the circuit. Also, I was still bricking it...! As it was nearly a year since Oulton I guess I still wasn't in the groove - new circuit as well and worries about the swirl pot - both were absolutely fine.
Qualifying went ok, pushed harder until suddenly I thought something was wrong. I got some bad vibrations through the wheel and the front felt like it was scrubbing with understeer, so I pitted on what was actually the last flying lap anyway. When I came in I looked at the front wheels, and there were seemingly long strips of flattened black putty all around. The guys told me they were marbles, not helped by the fact the tyres were brand new. Ah! I thought that effect only happened to GT and single seater cars etc. not a 30 year old BMW! Every day is still very much a school day. I qualified a few seconds off the pace, but was happy that I was getting quicker. I took my Polish garage buddy (YES! we had pit garages... one of the weekend highlights!) through my video footage and straight away he had some good tips. Qualified last of course.
Race 1 I actually started to enjoy a couple of laps in, the first time of the whole weekend. finished lapped by a few cars, and a bit of drizzle wasn't welcome but it made only a small effect.I put in my best lap of the weekend, had the back end step out a few times, completely missed my braking point going into the Woodcote complex... my concentration had wandered off completely! But I was pretty happy.
After a re-fuel and a MacDonalds run for the kids, I just wanted race 2 out the way. It was 20 minutes as well so a bit longer. I had a bad start with 1st gear mostly in wheelspin, and didn't put in any great laps. I think I was completely not focussed and had almost forgotten what I'd learnt in race 1. But I trundled home, and made up a couple of places due to retirements. It was a bit frustrating looking later at my laptimes - consistent but off even my own pace. But I was happy to see the car behaved impeccably with a completely new fuel system (installed by yours truly), passed scrutineering (I got a stern warning that I needed my MOT certificate to prove my exemption to not having the steering lock removed - nothing to do with the fuel pipes being held in by B&Q fittings...) and escaped unscathed. At the weigh bridge despite having taken out power steering and running less fuel, I was still around 45 kgs over... but sadly 10kg or so was down to me since Oulton park! I even had to borrow a race suit as mine didn't fit.. ah well.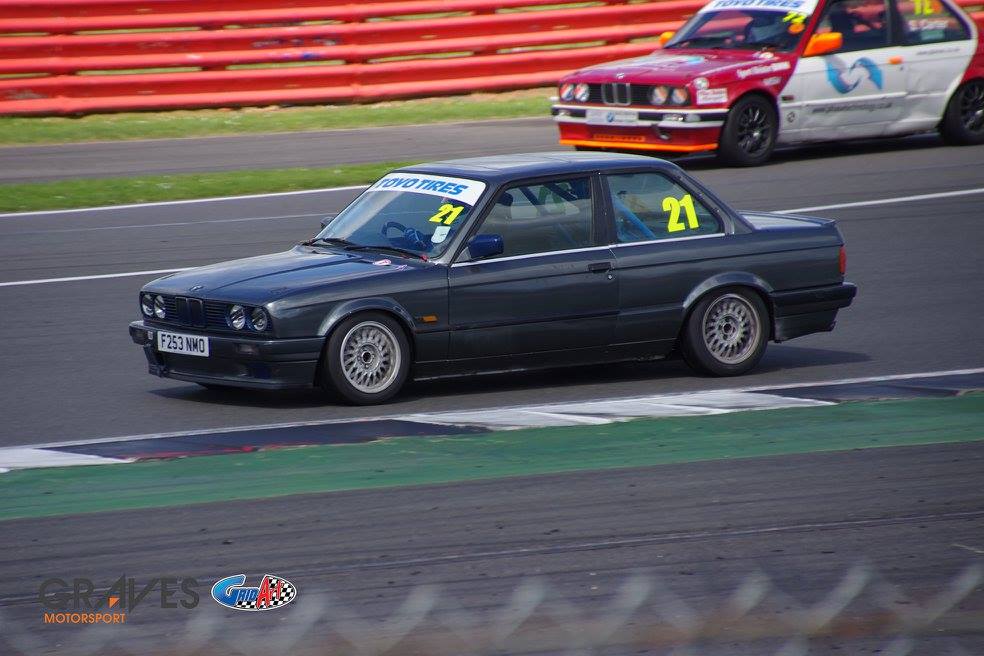 In summary it was great to go to such an historic circuit, get clean races in and another 2 races ticked off. I really want to get some more tuition with the car or to even sit as a passenger and get a feel for what's actually possible. I also want to shift some excess weight from the car (should probably work on myself too...).
More thoughts can be found on the Silverstone race weekend vlog.... as well as the slightly dodgy (cheap camera!) footage on the channel.