First race - Brands Hatch GP Circuit August
Details

Hits: 1463
At long last - and I did check how long ago I started this blog - I've booked my first race! The whole family is coming for a few days in sunny (hopefully) Kent with some family friendly fun bookending the race weekend. The Production BMW Championship is running under the Lotus festival so should be a good weekend out.
Brands Hatch GP includes the forest section and was formally run (most recently as the European round) of the Formula 1 championship, and is arguably the most prestigious racing circuit in the UK after Silverstone. I at least know the indy circuit having driven in my Fiesta(!).
So a bit of car prep is needed before then, I have a set of Toyo proxes in good condition ready to go. Turns out I have a slightly knackered wheel bearing too so that's on order. I'll be watching plenty of youtube track guides over the next few weeks....
Very excited!
Shakedown
Details

Hits: 1561
Wow, so this section is a bit empty! Finally (sort of) moving off the "car build" and on to more blogging matters. Actually this could be the final article about the car in it's own right, because instead of selling up (two people committed to buying... just a strange matter of no money exchanging hands...) which I nearly did, I finally got the car out on circuit to pop it's track cherry. In summary, all went well, so I guess the car is finished? Actually scratch that these cars are never finished! The shopping list is never empty.
Llandow circuit is near the South Wales coast and is pretty windy and wet on a good day! But the circuit is pretty challenging despite being short and deceptively simple. Nook bend in the wet certainly makes you ponder whether to brave it flat and the first chicane is a good test of your heel and toe technique. I skipped that test as I don't have one....
Weather promised to be utter toss, in the end apart from being very (very) windy and some sharp showers, the day was manageable. A dry line even started to appear around Nook - shame it didn't start earlier in the bend as I could never bear to take it flat all the way through.
Early on, did one sighter lap after rushing changing over the wheels in the rain (breaker bar and cordless impact wrench now sourced!) to the set with worn 888's I have, and dropping the front suspension down a couple of cms from what I have on the road. Straight away I can hear some scraping, so I come straight in. Can't see what the issue is, doesn't seem to be any obvious rubbing, so out for another 3 laps. Then, bang. Shit - what was that...  steering "seemed" instantly wobbly, so I limp back to the paddock and inspect the car expecting broken wishbones or suspension hanging down, but instead I only find I've lowered it so much I can't get the jack under, and it's sodding raining cats and dogs! No garages at Llandow either.
Guy next to me in an X5 (cheers!) asks if I want to borrow a low trolley jack - which I didn't even know existed! I give the front a good look, then wonder why the mudflap is dragging on the ground... check other side, no mud flap. Hmmm. It's come off and gone under the rear wheel. So I take a front wheel off, and oh dear another issue. The coilover collar has gouged the wheel... so back up the suspension goes a couple of cms! I now know I need a couple of wheel spacers on the shopping list then - I remember seeing this advice but the problem is you get conflicting advice, and can never hold it all in.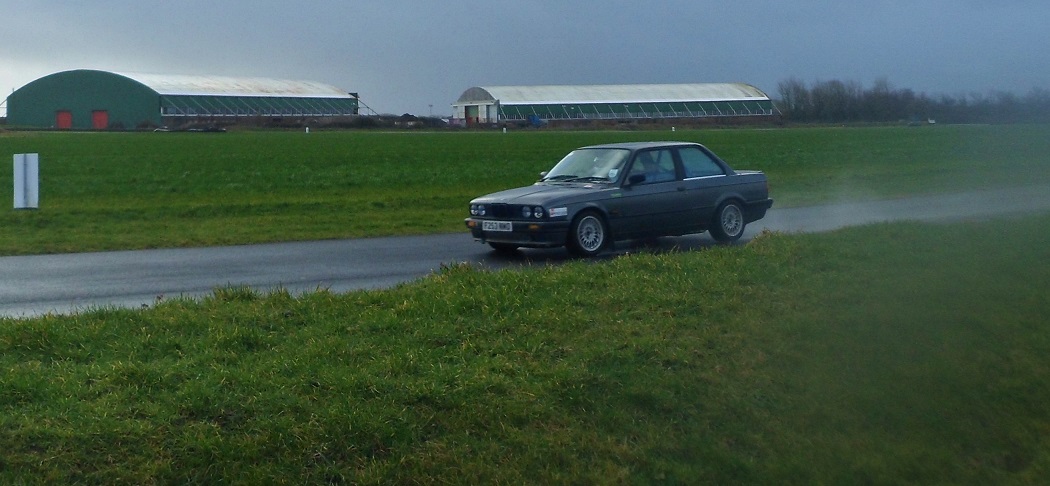 This calamity caused me quite honestly to think ah well, I don't really know what I've been doing over 2.5 years, the thing was bound to break. That was a almost a fun few laps. But sod it, I've got a lift home as the other half came down with the kids to see. So I pushed on. I go out for a few more runs, and it turns out all is now well.  Before lunch I'd sorted the tyre pressures up to 25psi cold (probably should have gone a bit higher as it was a freezing day), and the handling was muchmuch improved. After lunch I put in a few more runs, gaining more confidence with the car and really getting a feel for it. In hindsight starting on a slippy track was probably not such a bad thing.
In summary, I've found the inevitable teething issues and know what I need to do, but best of all the car is absolutely solid and the setup is a great foundation to work from. It's predictable and even a little bit fun when the tail happy characteristics get poked with a stick! Also, nothing broke, nothing fell off, and I built - I have pages and pages of proof!
Bit of vid from the early laps, with some slapstick humour for good measure.. http://www.youtube.com/watch?v=88orotzwkyc
So for the next chapter then, I'll have to get a decent set of Toyo 888 proxes and go out for some dry running, with the necessary changes. From there, I'm hoping to sign up for a production BMW race this year.
Go Racing!
Details

Hits: 1953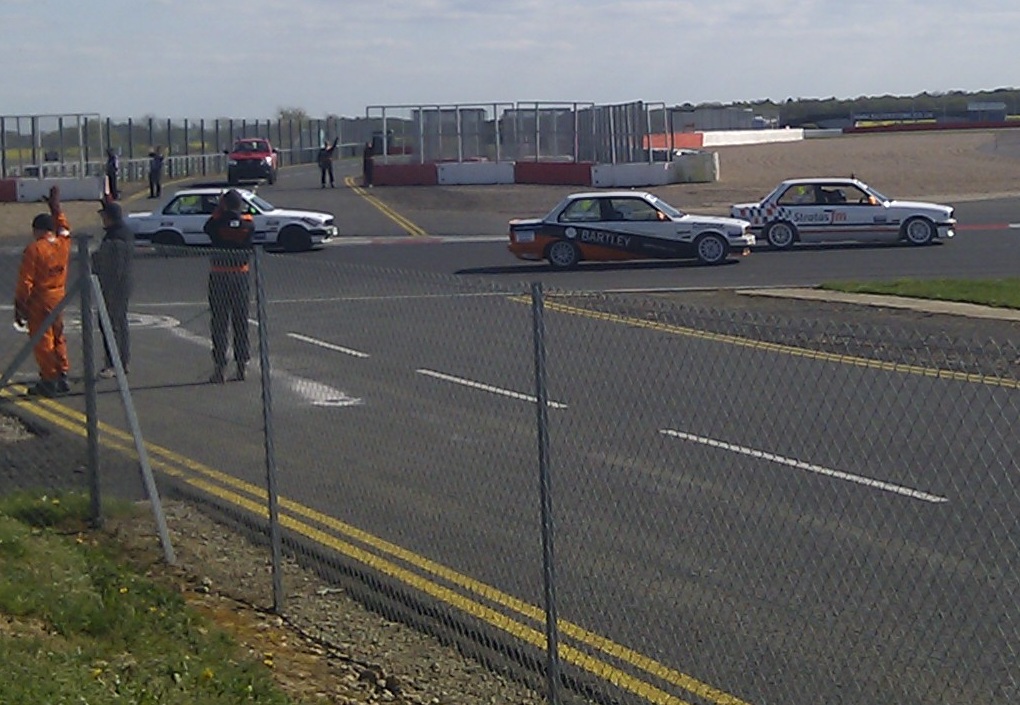 Always fancied going motor racing but don't know where to start? Splendid... simply follow the easy steps below!
Step 1) Get your competition licence from the MSA
Step 2) Get in touch about an excellent car sharing opportunity in the Production BMW championship
Step 3) Buy your helmet and clothing, and go racing...
Of course, there's a lot to pick up in addition to the above, but if you really want to go circuit racing please get in touch. Like most competitors, I'm looking to offset my own racing costs, and car shares are a great way to do this as well as getting people their first taste of racing. I'm also more than happy to pass on my own limited experience, so give me a call or use the contact facility.
Next year I'm hoping to enter the Production BMW Championship, a friendly budget but competitive club  series - for details see here: http://www.pbmwc.co.uk/
0-Double-Seven-24 849 704
Miles