Track day booked!
Details

Hits: 4952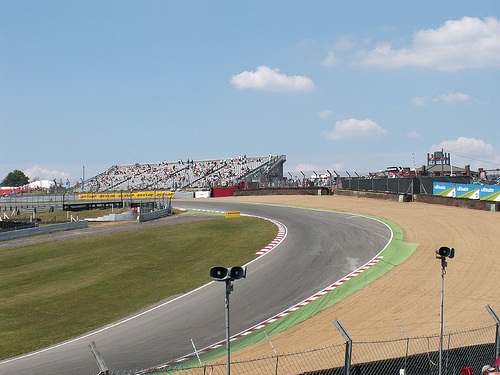 So here we go! After a bit of a delay, (well to be fair the last update was only in June, of last year....), I now have the chance to find out how well I do on a track, on my own, which means booking a trackday. However - not just any old track day, it turns out there are special Novice track days. To qualify, you must have driven 3 or less trackdays, which I think I've managed as this is my first one. It seems naturally to be the next step.
I simply went to the Club MSV website and booked an evening in August, giving me about 2 hours worth of driving, for around £130. This includes some Instructor tuition which is probably recommended in order to get the best from a circuit, certainly if you've never driven it before. Before you crack on however, you firstly "sign on" (something I've become very aware of in an earlier post!), get a group driver breifing, and get some sighter laps where you follow each other in file behind a pace car, just to get used to the circuit. You also require a helmet which you can hire at the circuit or bring your own.
I'm taking my 2 year old 1.6 TDCI Fiesta, which to be fair is good fun on the Cambridgeshire back roads. At the Brands Hatch Indy circuit, I'm expecting it will be just a bit more fun! It's not the fastest car in the world but is widely acknowledged to grip and handle pretty well, and I personally think it's pretty fun to drive. And I think in this case it's worth not jumping into a hot hatch or souped up saloon. Initially I think it's all about learning to take the best racing lines and getting used to using all the road, (in the safe knowledge nothing "should" be coming the other way!). I just need to stay out of the tyre wall at Paddock Hill...
License Arrives!
Details

Hits: 3743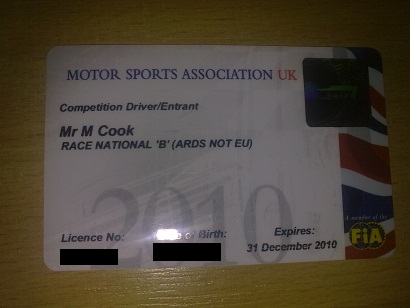 It's here! I was like a kid at Christmas it was almost pathetic! It took longer than anticipated however. I rang up after 6 weeks and the chap at MSA said they'd left a message for me on my mobile, number 07575.... as my number actually starts 07979 that could explain things. The message apparently said I sent a cheque for £50, and not £51 which is the actual fee. Oops!
Anyway, it's now here, and the first step is complete. Next for some race wear, when the bank balance has had time to sit down and rest...
PBMW Track Testing Day
Details

Hits: 3042
As I was finding the chaps in the PBMW forums awfully friendly and full of very pragmatic yet sound advice, I decided to pay them a visit. Actually that was also their advice but still, I thought it would be a great idea to go and learn about my intended new hobby. To be honest it's a bit intimidating going to Snetterton on your todd, looking for some old BMWs then interrogating the first chap you see, but I think I did a reasonable job. A few kindly offered to see me there and answer some questions.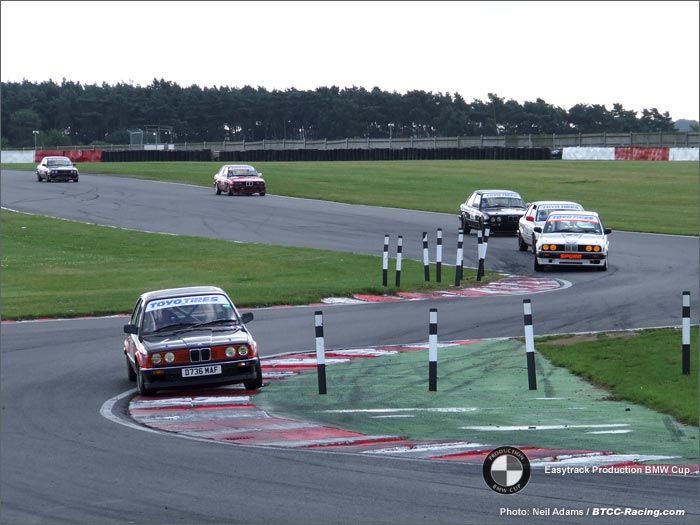 Chief among these was fellow Cambridge resident Kristian who generously took me out in his tangerine and silver machine, after I'd hired a lid and gone through some beuracracy with the admin staff. I should explain at this point that if like me, you hire a helmet at the reception and ask if there's anything else you need to go out on the circuit, expect a re-assuring response that you have everything you need. Followed by a marshal asking you to wave  your circuit wrist band as later on you trundle down the pit lane. Cue going back to the front desk, and being asked "Would you like a track pass?". Yes please, thank you kindly. Of course, you give them that "oh what am I like eh!" sheepish look on your face. However, these are the event organisers, people who dish out penalties and oversee scrutineering, and are therefore people you really, really want to keep sweet.
So after my crash course in how to be allowed on a circuit (filling in next of kin forms primarily) as a passenger, Kris took me for a few laps in his pride and joy. Again, you have to forget how the real world works in terms of driving speeds and safety distances. Maybe I'm being a big jessie but I was concerned how close you are to other cars at a 100mph, and how hard you turn in to corners. Still, I used to be scared going over 60 as a learner driver. Clearly according to my driving license points tally though that wore off pretty quickly, so I've no long term concerns about going racing.
Fair play the guys can't really do anything more for you, and I chatted to some over lunch break (turns out marshalls need to eat too, so the circuit shuts down). They gave out a good welcoming vibe, and in return I promised I hoped to see them again in a few months. These might be fellow competitors, but they are really happy with the state of their championship and want to see it grow successfuly. They seem to have a competitive streak where it matters, but a brilliant camaraderie when the wheels stop turning.
One story that highlights this, was from one of they guys who turned up to Silverstone very excited to drive the Grand Prix circuit for the first time. Several laps into qualifying and his engine shat itself into many pieces - weekend over. Time to go home a broken and dejected man. On route walking through the pitlane a guy asked him why was he looking a "bit down". After explaining why he was going home the bloke said he had a spare 320 engine in his van, and minutes later a handful of complete strangers descended onto his car like mad men. The result was a replaced engine in time for the race.