Passed ARDS!
Details

Hits: 3282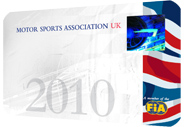 Well I'm glad to say that's now 3 out of three licenses I've passed first time round! Though I was amazed how much time you need on a circuit to really learn it properly, even one with only a handful of corners. I'm also pleased to say I officially helped break in the new Stowe mini circuit, never before driven on in anger!
Quite a lot of things struck me, including how you have to get your brain to adjust to a new kind of driving, almost like driving all over again. It completely ruins your perception of speed (as I found out when I left the car park in my own car, on the first roundabout I thought "hang on, this feels wierd!"). I learnt the importance of "sighting" corners - concentrating on the next corner and aiming where you want to be after the current one. My instructor Charlie Hollings wasn't too bad, but it's difficult to teach somebody racing speeds who's never left the main road before, in a limited amount of time.
On the driving practical test, I think I could have done a lot better, but I attained mostly 'B's and a couple of 'C's for my grades. One of the 'C's was for consistency as on my exam laps I was slow then quick then slow, cocking up corner after corner. As soon as you balls one corner up, you're kicking yourself for it and you lose rhythm. Still, a good pass is a good pass! Oh, and the theory test is pretty straightforward too. Know your flags, know common sense, and you'll walk it.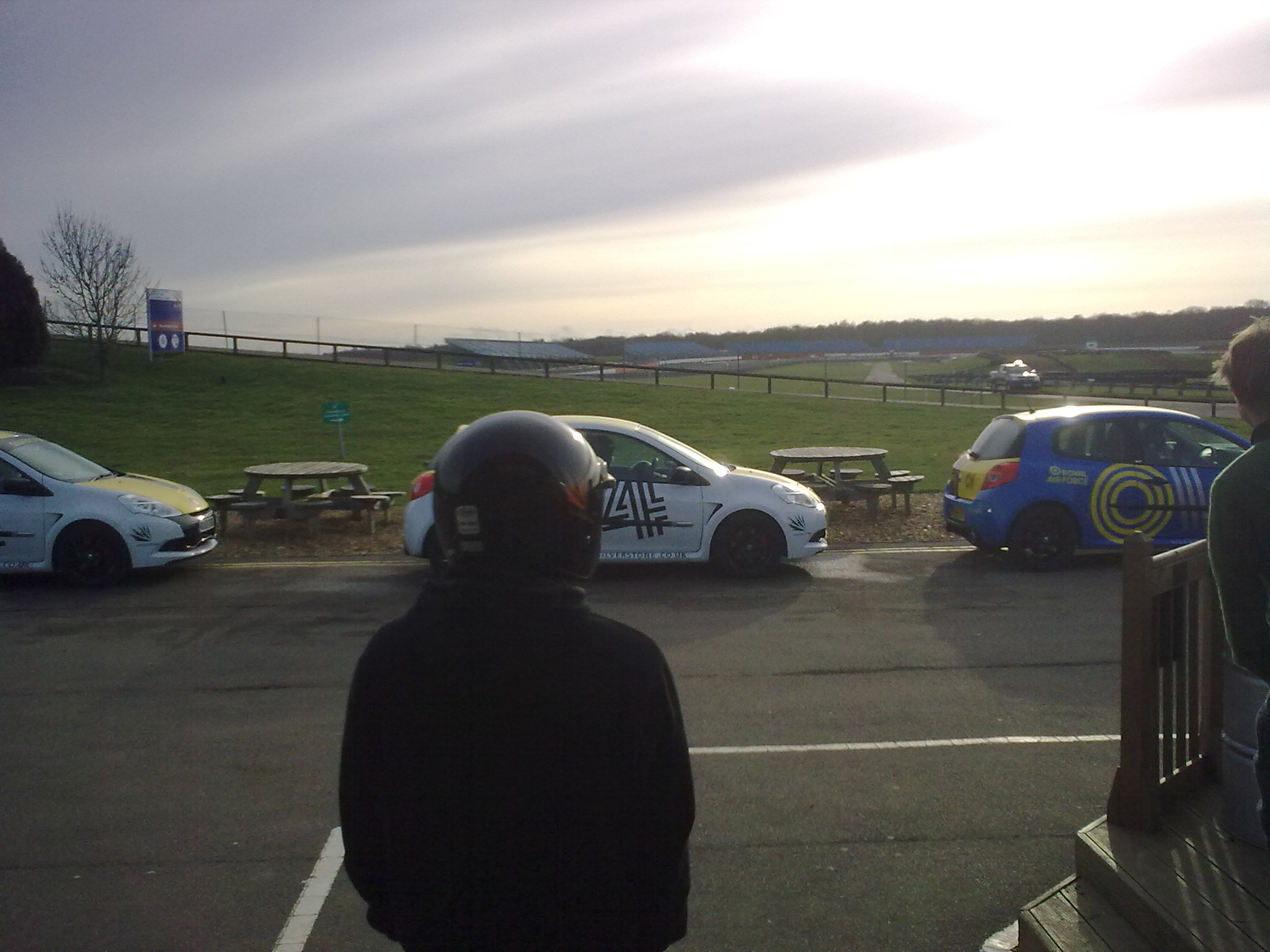 Now, a quick word on the cars if I may. Imagine the woman's surprise when I ring up to book my ARDS test, and I inform her I'd like the day with the Renault Clios instead of the Lotus Exiges, as I get to come down a week earlier. A bit impatient of me I thought afterwards, I should have waited a week to play in Exiges rather than a crummy French va va voom go kart. Well, I got a bit of a shock. Not really in terms of any power, but the way the thing tried to mate you with the side of the seat. There's so much grip I thought my instructor was going to kill us on the first lap he really belted it. Insane, really insane for a car which you could buy from a show room. The road legal track tyres undoubtedly help, but for me it was a new world of grip I'd only dreamed about. The (approximate) words of the head instructor big Steve still ring in my ears, "Guys this is a bit like skiing, you'll do it once and you'll know if it's for you or not. You'll either think 'hmm, that was nice but I've had enough now', or 'bloody hell that was awesome! I want to do this more and more!', with a massive smile on your face!". I reckon I'm easily in the latter group.
Oh, and the guys I went through the test with were rather nice chaps. I think we all identifed the "all-gob listen to me lads this is what the instructors won't tell you, but I know it all so I will" chap, but it's just as important to humour them politely, listen for a short while, then remember who your examiners and instructors are, so who actually counts. Speaking of the other guys, it's very interesting to chat and listen to their plans, what series they're joining. One of these 'sound' blokes was a certain Tom Hunt, son of a Formula One legend - smoked an awful lot but nice guy!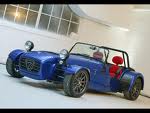 In conclusion, an brilliant brilliant day combined with an important license examination. I really was like a kid when I got to Silverstone circuit, seeing it so many times on TV. One of the best days of my life, making me a truly sad individual but still! And then there were the Caterhams, which were more like putting the car on like a tight fitting shirt rather than getting in it. The skid pan with the wild Meganes on trolley wheels. Simply put, I can't recommend it enough.
Meeting the competition for the first time!
Details

Hits: 2491
On the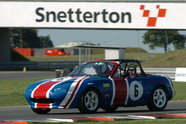 6th March I will get a chance to meet some competitors in the PBMW series at their pre-season testing meet. On the agenda are beers (not before driving I'm sure!) and BBQ, so already I'm getting to like this series!

My National B Racing License is making progress, on the 1st February I'm heading down to Silverstone for a full day ARDS course. I had the option of booking on the 1st in a Renault Clio, or the 19th in a Lotus, so naturally I went for the earliest date! Stupid impatience... Oh, and transferring my GP to where I live as my current one is still 200 miles away in Cardiff! I'll need a medical along with a (hopefully) stamped ARDS pass to apply for my racing license.
And so it begins...
Details

Hits: 2758
Whether this will become a testament to my failed attempt at one of my greatest lifelong ambitions, or I'll be looking back at this article at where it all started a year from now with a smile. But you do have to start somewhere. One such start that has really inspired me is Charlie's blog on getting started in racing - I read through the articles like a brilliant novel, and commended the author who in several weeks I could well be meeting...
My aim is to take part in national motorsport track racing. A fair bit of research has led me to the series Toyo Tyres Racing Saloons and the sister series Production BMW Championship, which is at the budget end of racing. With a few hours spent on their forums, it became clear that they were a good bunch and very newcomer friendly. A fantastic amount of advice and help seemed always on offer, and I didn't see any point in looking anywhere else.
With a series identified, I'm planning to go to their first meet at Brands Hatch on the 28th March just to get a better feel for the environment. I was told through their forums I was welcome to come and find members for any advice, which seems fantastic.
So while I wait, I've started the process of obtaining an MSA (Motor Sports association) National B License, with some great guidance from their website. I need to book an ARDS test which is around £200, plus another £200 for some driving tuition in order to learn the course before the driving practical. I've taken my driving test twice and passed both times, I intend to make this 3 out of 3! The application pack came with a plethora of Motorsport 'porn' such as catalogues of equipment, clothing, performance parts etc. Also, the official 'blue book' for 2009 (I made the application last year) with lots of complicated regulations. Things started to seem excitingly more real.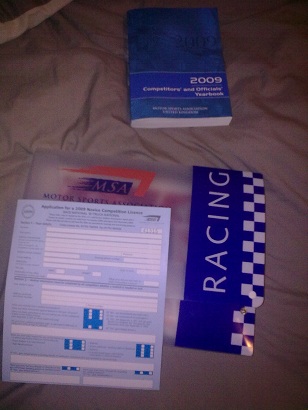 Of course, a license and some contacts won't magic me a car and equipment overnight, in fact for the moment that's way out of my budget, (even though I accidentally on purpose bid £250 for a 1987 BMW on Ebay!), so my initial plan will be to rent a car. Competitors will come to circuits and track days with an extra car for a pre-arranged fee for someone like me to arrive and drive. I'm establishing some contacts through forums, when I go down to Brands I hope to nail down some dates and fees. It's not looking too bad really, it's not cheap, but certainly less expensive than getting a car. I figured on getting in some practice, maybe even a couple of races, before getting my own - which is a lot of work and expense!
I know I'm completely mad, as this is an insanely expensive hobby even at the budget end, and will consume a lot of time. But I like a challenge, and it's something I can really get stuck in to. It does help that this is probably the biggest thing I've wanted to do for years, and it's all possible - all it takes is effort and determination!
To be continued...