First race weekend Brands Hatch GP
Details

Hits: 1331
Sitting here with a cup of hot chocolate I'm reflecting on a busy weekend, which went about as far from plan as it possibly could. Entered for the PBMW meeting at Brands Hatch for qualifying and 2 races, sadly I never got to race. In summary I spun at paddock which is a fast blind right hander down hill, got T-Boned by a driver who could and should have avoided me easily, and even worse with inexplicably no yellow flags for my stationary car. The car is a mess, and I'm still trying to work out if it should be saved or re-shelled. But on to the weekend generally…
Getting to Brands Friday morning to find our paddock, be placed in our own spot and setting up the gazebo, in itself was a bit exciting. Such a small thing, but for my first experience it felt like the climax of 5 years of preparation and a lifelong ambition. This was properly exciting, we were actually going racing. All I had to do was set up the car from my notes, sign on with my license, get the series sponsor stickers applied, get the car scruitineered, and wait for qualifying last thing on Saturday. In scruitineering (took the car up early in case there were any issues), I did say the car had never been through before and afterwards they commended my work - something I'm very proud of! Just a few pointers on yellow tape to identify negative cables (funny I thought they were always black and connected to the chassis?!), some more roll bar padding above my head, and a spare throttle spring, plus some tape for the lights. I had my MSA sticker and for me that's quite a landmark in itself after building the car for 3 years from a road car.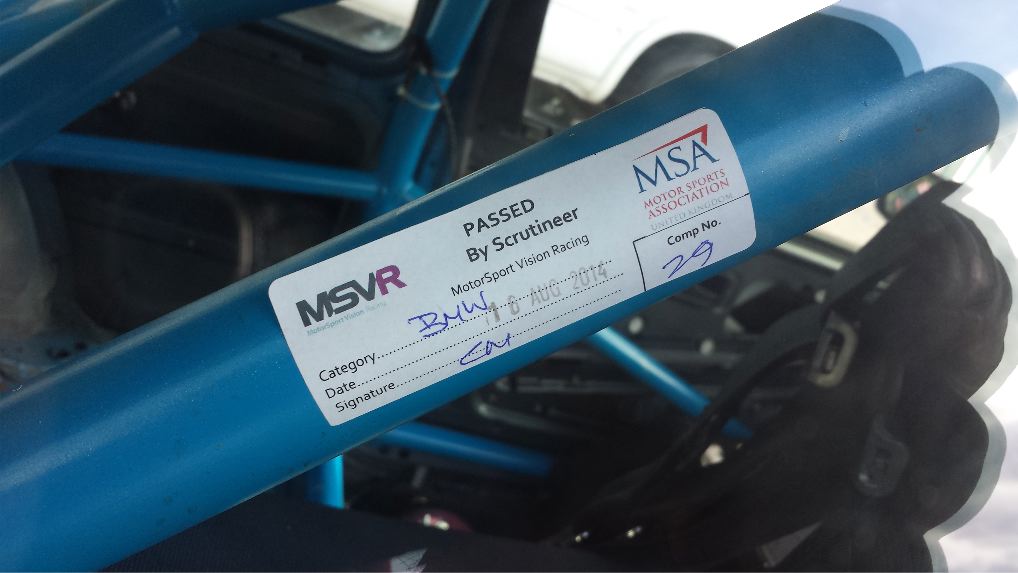 Finding things for the family to do was one of the priorities for the weekend, I didn't want her and especially the kids to just sit around being bored. At Brands there's a brilliant little park at the top which they enjoyed, and we got into a bit of a routine of dong something to tire them out, getting them fed and then napped, and then repeat. After two days flat out on holidays before coming to Brands the kids needed the relative rest. For qualifying my partner wished me luck and set off for their viewing point, at paddock hill bend.
Firstly, getting ready, I had the most abhorrent and inappropriately timed wardrobe malfunction with my race suit, and without going into details I thought I was stuffed. Minutes before being due in the assembly area I had a major race suit issue. The guys parked next to us helped me out (massive thanks to the Graves family!), and I got up there with not long to spare, already pretty stressed. I had to ask a passing gentleman to pass my my gloves from the passenger side as I was buckled in, and in the assembly area a passing lady to switch on my camera. The first few seconds of footage I have are (yet again) slightly amusing.
Leaving the pitlane I wanted to be last to not hold anyone up, but in retrospect should have been much more on it on the out lap. I caught myself feeding the wheel at druids - very pedestrian! As the laps ticked by I was getting more and more used to the car and being more aggressive and it was paying back around 1.5 seconds per lap.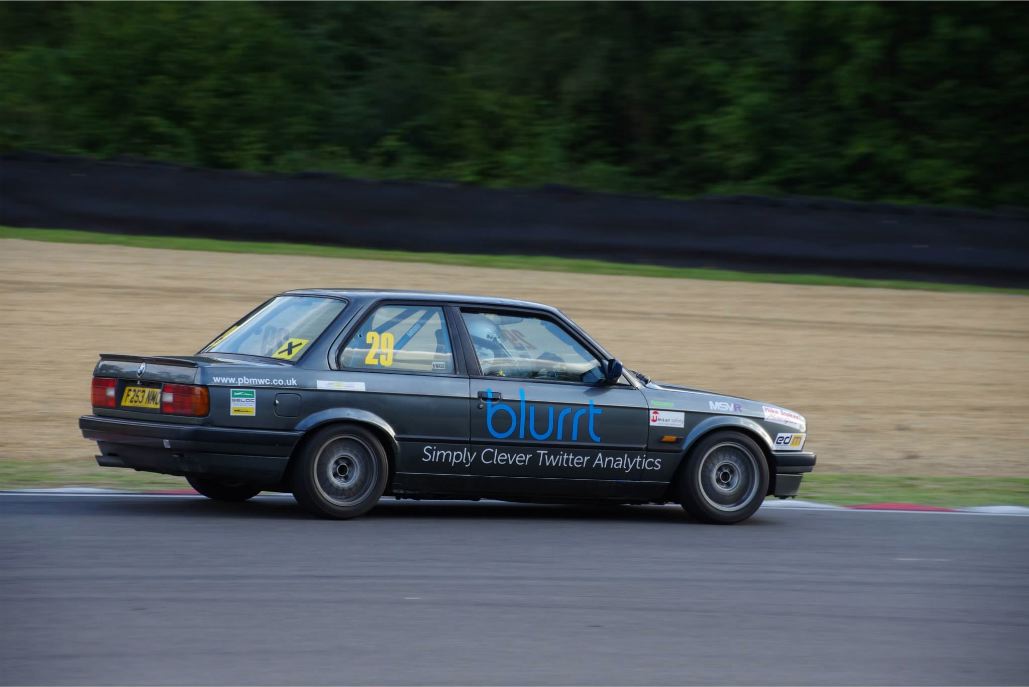 On ultimately my last lap, I got a bit distracted by the black and orange board with the number 20 something and remember thinking "shit, that's me! Oh no wait I'm 29... but somehow it must still mean me? My car is probably falling apart...".  I braked harder and later at paddock hill bend also aiming to take more speed into the corner, but my brain just wouldn't let me turn in as I didn't have faith it would stick - I'm sure I should have really. I was on the brakes too much trying to scrub off speed and turning tighter and as the track fell away so did I. It's another bit of experience to take away that the best thing I should have done was try the car on a fast dry circuit to dial my brain in to the "new normal" of cornering speeds.
I nearly caught the tank slapper twice, but in the end sound and came to a stop stalled in the middle of the corner. I was mortified… (though the amount of people that spin there makes me feel a bit better!), even though it's one of the trickiest corners in motorsport. I tried the starter button but she would't fire, I think I just needed to give it more time as it was so hot. I wondered what do do next with all the cars flying passed me, and tried to start again. Out the corner of my eye I saw a car coming towards my passenger side and I remember thinking "well this one is definitely not going to miss me". The smash was pretty hard and spun me 90 degrees as his car carried on down the hill. Instantly when it stopped, I felt fine and oddly didn't think it felt too bad. I sorted out my belts and helmet before getting out the car, as marshals had red flagged the session and were coming towards us. Unfortunately, this all happened right in front of my partner and the kids!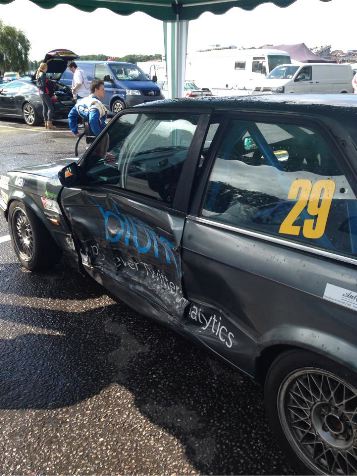 The other guy was already out and apologised straightaway, indicating he had nowhere to go. the cars were loaded onto flatbeds and back to the paddock I went. I just remember being quite calm and thinking it could have been worse. I'd been hit badly but by motorsport standards accidents can be much worse. The side head restraints on the Cobra seat (mandatory in PBMW) had done their job, as had the roll cage. I did have a bit of paint on my helmet from the roll cage above - see the scruitineers comments earlier!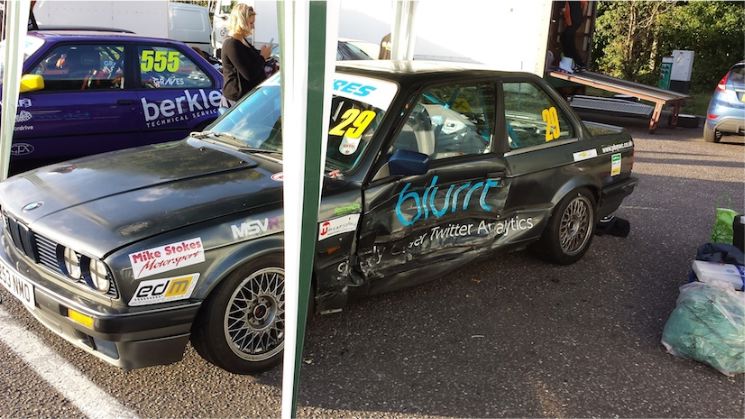 Getting back to the paddock I reassured her I was okay, and the kids. Saying that, the eldest boy was more excited he'd seen me get on a lorry, and when I'd been hit he repeatedly told mum "Dada crash!" very excitedly. I think mentally he was pretty fine, I'm just glad it wash't a year later so he'd have actually understood what just occured… What happened next was a superb reflection of club motorsport generally, especially in a close club like PBMW run by Project 8. All sorts of competitors and family came to see if I was okay, if we needed anything, if we were okay getting back… some of the Greaves family next to us with 3 cars were laughing and joking with my partner which helped bring her back to normality. One guy offered me a beer, which was gratefully received, and more had a healthy respect for the roll cage which had barely moved. The cage had ripped the floor where it had been hit rather than folding. Great work from the Rollcentre in St Ives! So already I was looking at the positives.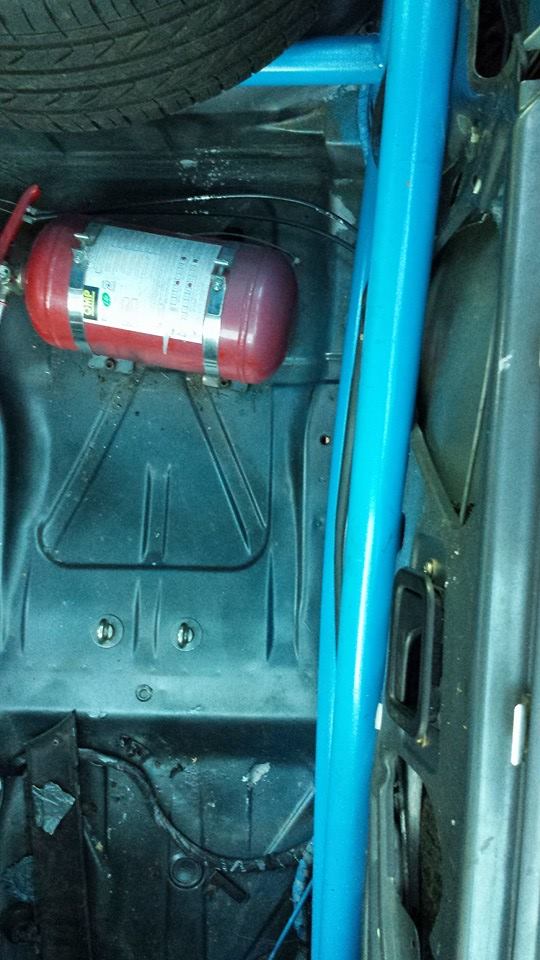 We arranged for the car to be trailered home, but not before I took it up to the scruitineers - it still drove fine, just the wing rubbed on the tyre where it had been dragged down. The conversation went something like - "Could you look at my car I've had a decent smash and would like to know what you guys think regarding getting it certified again if possible". "Ah yes, no problem, you're the chap who came to us yesterday with a freshly built car for your first weekend…?" - with a sympathetic smile. The guidance given was to replace the two roll cage bars that took the impact, check the floor for cracks (and replace the torn section), and they'd be happy. More good news!
We watched a bit of racing Sunday, and met up with a couple who were friends from university - they'd come to see me race amongst other things but were happy with their complimentary guest passes. As part of the Lotus Festival some old F1 cars were on display including one of my favourites, the Arrows that Hill drove in '97.  Afterwards we went back to the hotel to give the kids a break. I'd spotted Mark (they guy who sealed my sunroof) had reported some damage from the first race on Facebook. I told him to use anything from my car he needed, and after following the race live on tsl-timing.com he sent me a picture of my front grille, which finished on his car 18th!  (More damage was to come for the other PBMW cars including a 6 car accident on the first lap at clear ways bringing out the red flag..)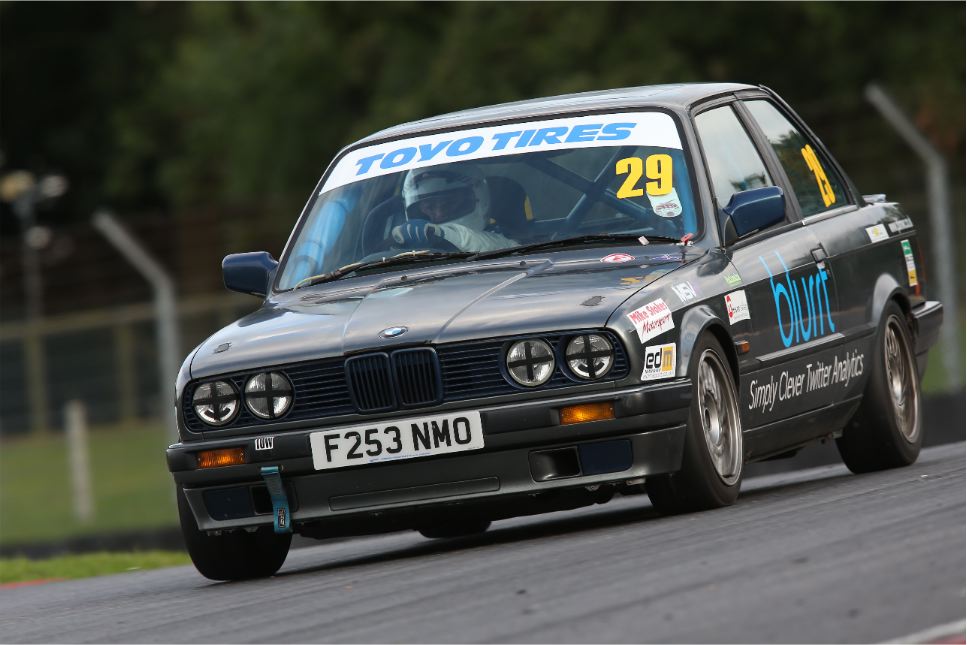 Currently, the car is awaiting a trip to the workshop for measurement of the 4 corners and the floor damage. One of my mechanic contacts not far from me is an E30 specialist (happy to give out his details) and has a fair bit of experience mending rally cars. Having had a very good look it looks positive so far, and if it's given the green light the plan is to rebuild the floor from part of another E30 shell, and replace the pieces of stressed roll cage. It's another positive if I don't have to kill the car, and would be immensely satisfying to get it back on track and racing.
So that's the next step, a winter rebuild and maybe some more tuning and fettling. When all is done I'm going to ensure I get some decent testing time in the dry at a circuit like Coombe with fast corners.
More last minute prep
Details

Hits: 1132
I kind of knew worst case the car was pretty much ready, but one more afternoon rounding off some rough edges would be great. Firstly the front Gaz shocks (see previous article) needed a bit of TLC. Some WD40 and a rag more for the threads than anything else. Trying to adjust the height was a PITA with the surface corrosion even though the Gaz shocks are annodised (??). Some copper grease applied and the collars wound down to 27 cm between them and a point near the bottom of the strut, means the car is now sitting at the same height I tried unsuccessfully at Llandow. Now I have a a low jack, and with the 5mm wheel spacers are doing their job, I'm pretty happy with the outcome. No more rubbing the tyres on the collars. Also, with the OS front hub replaced, the tracking done (cheers again Tom!), and it sitting at track height, it's never felt so good to drive. Utterly faultless on the roads, track will be another matter but it feels a great base to work from.
I've also shelved the steering boss - just too rattly and worn after more use than it should have had. Adjusted the seating position to a slightly more reclined position, and it feels brilliant especially with the steering wheel at a more natural optimal spot for my arms. I've also done some gauge swapping so I know have a working temp gauge, quite important! I found a stereo accessory plug connector to connect my transponder up more reliably to the accessory socket - nice and fused all for me. I've given the car (for what it's worth) some injector cleaner with the full tank of fuel to get to Brands next weekend. I've heard they are next to useless - hopefully that's slightly exaggerated and will help a touch but the injectors will be refurbed over the winter along with some other jobs.
Also, we now have a bit of branding - cheers to Blitz Media for a fast and friendly service. The logo looks pretty noticeable and the colours work well I think. The final decals for the series will go on at Brands and some pictures will follow of the finished product, of course.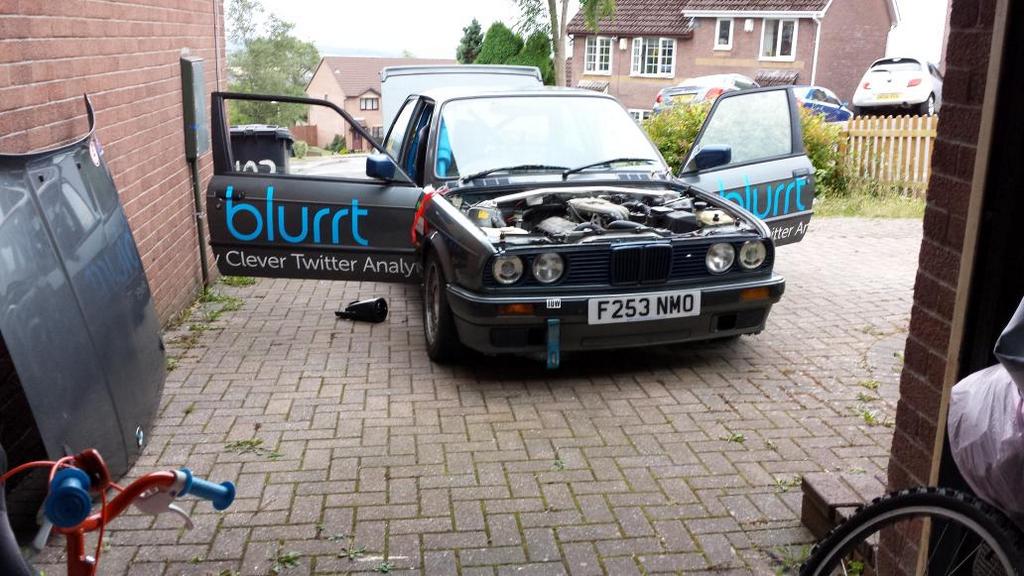 The steering column shroud is off, I've found some more redundant wiring to take out, cable tied the fusebox and some other leads. I realise I'm just looking for things to perfect now, so the next blog of any significance will be at the circuit, that will be quite a big update with lots to waffle on about...
Last minute race prep
Details

Hits: 1117
So here and there I've been doing some last minute jobs when possible. Most importantly was the OS front wheel bearing - honestly it's insane how some jobs to some people are a nightmare, yet other find that job dead easy but another seemingly simple job hell on earth. I had my long awaited easy turn with what can be a pain in the arse job. The hub nut - with the help of a breaker bar and tube of scaffolding - came off reasonably drama-less. The old hub came off intact with the brake disc, the screw holding the hub together I'd sprayed with copper grease so wasn't seized. All changed to a new one in around 20 mins! Satisfyingly, the old hub bearing could be used as a musical instrument such was the knackered-ness of the bearing. With that sorted, the car feels much more positive to drive. That, and I'd luckily guestimated to complete turns of my track rod end should dial out any toe in, and the fronts are now bang on straight 0 degrees. I have a lot of set up work to do, but for now this will do me fine as a safe base to work from. Cheers for the help to Tom for most of this.
Next up...
The transponder was next - quite important. You aren't racing without it! I've cunningly routed through my new made loom through the old brake wear sensor routing into the cab through the fusebox loom gromet in the bulkhead. From there it goes to the stereo plug on the accessory socket for hot-on-live power, and I'll assume from the green LED that in the pic it's working with the ignition on.
My really bad camera mount (the camera case cable tied to the cage) did provide some results at Llandow - see the video here , but a more up to the job solution was required. These generic camera mounts from demon Tweeks seem well engineered, and should pass as a basic driving standards camera to get me through one meeting. Plus I'll need to see where i'm driving badly, specifically...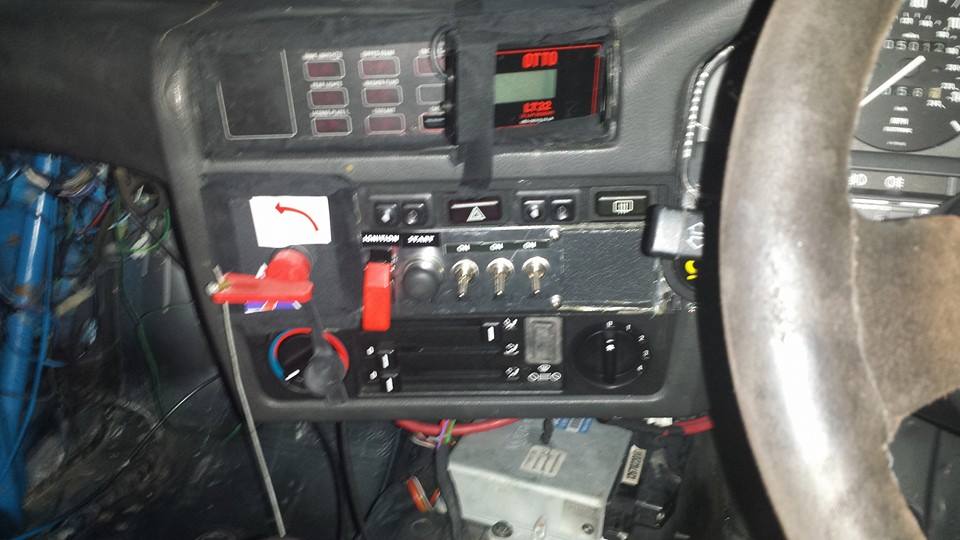 Here we have a lap timer temporarily fixed for the moment. I'll quite possibly be too busy to notice it but what race car would be complete without one...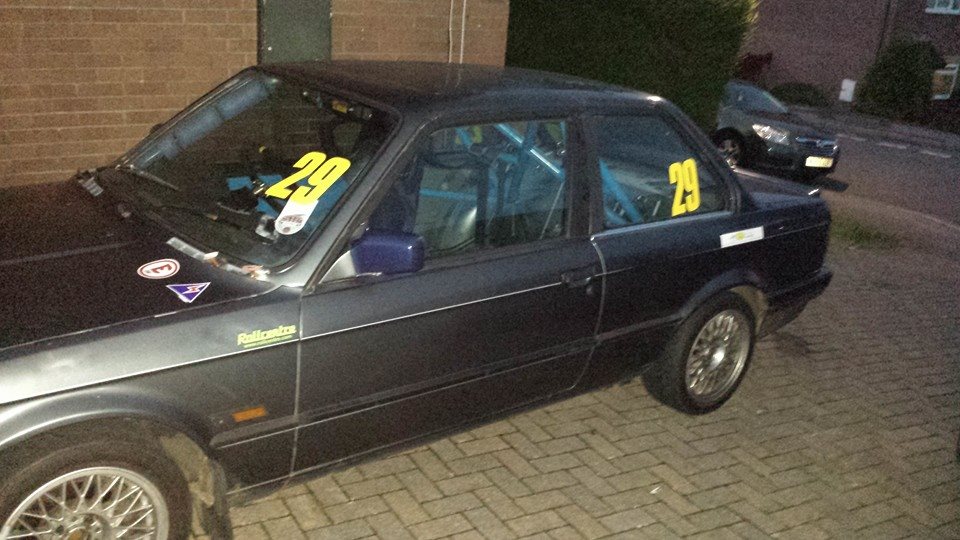 And talking of completeness, here is my number (actually bought these from ebay as wheelie bin numbers...). 29 being the age at which I first provisionally entered the championship and reserved.... very creative of course. Also, a bit sad in various ways. Not least that it's taken me a few years since to actually get sorted! Also - managed to bag some free wheel-rim swapping and balancing, courtesy of some sticker sponsorship from http://www.autocentres-gwent.co.uk/cwmbran-garage - good service cheers guys!
So there's a few more bits needing doing (as always), my anti theft steering wheel detachable boss - also handy for getting in and out of the car - is rattling a bit at speed on less than smooth roads. To be honest that's down to usage and skimping on budget, but as it's too close to me anyway I think at the tracks I'll just uninstall and re-install it afterwards. Won't take too long. The ride heights will also be adjusted there using my notes from Llandow. Noticed I've ticked all my prep list plus some bonus features, but of course I'm not ready and never will be completely...