Mercedes not arsed if Sir Lewis retires or not
Details

Hits: 1770
Despite causing a media stir, team insiders say Totto Wolf is secretly not bothered if Hamilton retires, because they have the best car, and that's the only reason why the Knight won 6 driver championships at the Brackley outfit anyway. In fact, the reason outgoing Finn Valteri Bottas didn't achieve the same results, is the team could never remember the Finnish for 'Push the go pedal harder!', and their Finglish would often get lost in translation.


Super keen and recent cub scout graduate George Russel not only impressed the team with his armfuls of badges (especially the IT Presentation badge), but his knack for following instructions e.g. turn this thing left and right, push that pedal. All the things you need to master in order to win in a Mercedes.


Due to the budget cap, to save on eye-watering recruitment fees (as well as long tedious disingenuous phone calls) from recruiters, HR are looking at an internal replacement should Sir Lewis not come back for driving duties. Trevor in hospitality has expressed interest in changing role, and currently doing a day's experience in each departments around the office, so they're considering giving him a try out in the staff car park. Sue in accounts is also looking like a good shout, as she's known to frequent the gym most evenings after work, likes a driver in her BMW E30 convertible Auto, and so already well versed in two pedal driving. Given a race or two to learn where all the buttons are, she could easily be the next F1 world champion.
Aldi buy McLaren
Details

Hits: 81101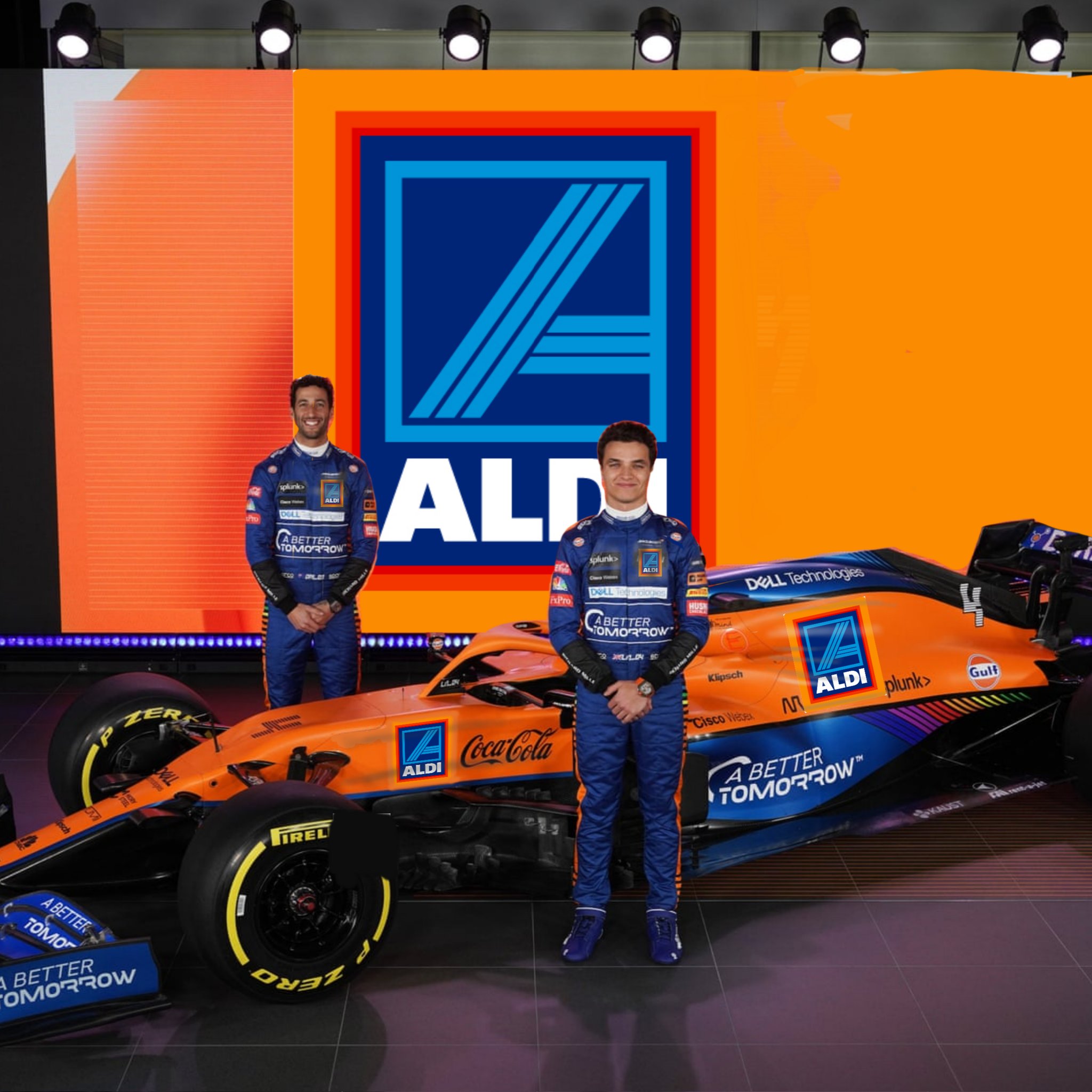 In a stunning revelation confirmed* by our source at the German discount store HQ, Aldi has bought the entire McLaren group.
Our source, who says this is nailed on, was present* at negotiations as the deal was thrashed out. According to Mr. Seenme (not his real name), Zak Brown saw a plethora of opportunities working with the brand. 'Youain' (still not his real name, roight) also exclusively* revealed to us that the catering budget could be slashed by a deal to supply the team slightly weird but surprisingly passable tasting, un-pronounceable named continental food. McLaren would also get varying levels of quality pit garage equipment, but only at random seasonal times. They'd also be allowed in store an hour early to have have a chance of bagging stock before it sold out, before coming back for a refund because the compressors don't have a cat's chance in hell of doing what they show on the picture, and the coffee machines turn out to be utterly cack.
In the partnership, Lando and Daniel would work in the stores as shelf stackers, for high intensity pre-season fitness. They would also take turns on the till, to acclimatise the drivers in the art of the Aldi checkout system. Using the industry leading famous technique, during pitstops the drivers would have their tyres thrown into the cockpit and told to fit them themselves down the pitlane, resulting in 0.25 second pitstops.
*may be utterly fabricated bumfluff nonsense
Picture credit: Craig Scarborough https://twitter.com/ScarbsTech/status/1460360538383392768
Ferrari in two car surprise
Details

Hits: 3041
There was red faced embarrassment over the weekend for the ever-present Scuderia, shortly after realising they'd actually been running two cars all year.
The slight oversight came to light as portly mechanic Guiseppe explained: "I was a putting away di gantry likea dis, and a all of a sudden, a voice is in my ear.... he say, Boys, whata strategy do we do? I looka at the car and say howa spooky it is, Sharl can be outta di car and still on di radio, and then Marco saya No! That's a Sebastian, he still drivea di car forra us! Mama mia..."
Cheery Italian stereotype Mario chipped in: "We canta believe it! We a thought Sebastian, he just come to see ow we do, we notta realise we leava him di keys to the other car!". Further investigations revealed that Vettel had been preparing the car, fuelling, running the briefings and strategy meetings all by him self. This has lead to suspicions that his all nighters assembling the car had left him a touch grumpy during the races. Unfortunately, being so busy the one important thing he forgot to do was write his own contract for next year.